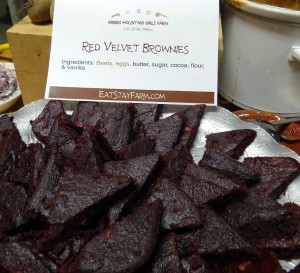 Adapted from Vegetarian Times
This is always a favorite and perhaps this end of winter/beginning of Spring temps and sugaring season make a warm mug of maple milk and a red velvet brownie seem like the perfect treat, here is this farm favorite!   To those of you who haven't yet sampled these gems at one of our farm events,  try. these. brownies. They're that good.  They are also a great use for any beets that got lost in the back of the fridge and are perhaps a bit soft – boil them down and puree them.
Ingredients
2 large cooked beets (1 cup beet puree*)
½ cup unsalted butter (1 stick), melted
1 cup sugar
1 tsp. vanilla extract
2 large eggs
½ cup all-purpose flour**
¼ cup plus 2 Tbs. unsweetened cocoa powder
½ cup chocolate chips (optional)
Directions
 1. Preheat oven to 350°F, and lightly grease a 9-inch square baking dish.
2. Purée beets in food processor until smooth, scraping down sides as necessary. You should have 1 cup. Set aside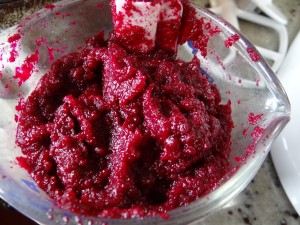 3. Whisk together butter and sugar in bowl until smooth. Add vanilla, then whisk in eggs, one at a time. Stir in beets.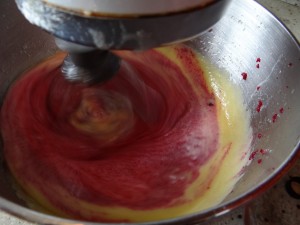 4. Whisk together flour, cocoa powder, and espresso powder in separate bowl. Fold flour mixture into beet mixture until just combined. Stir in chocolate chips. Pour into prepared pan.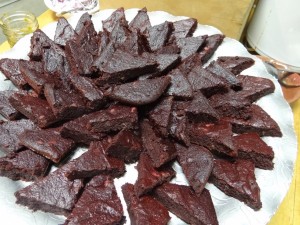 5. Bake 30 minutes, or until toothpick inserted into center comes out almost clean. Cool, then cut into 16 squares.
NOTE:  Doubled this recipe is perfect in a 9×13 pan.  And beet puree freezes beautifully!
*To make the Beet Puree:
Wash and cook beets (no need to peel, just trim), either boil for 20-30 minutes until tender or use leftover roasted beets. Drain well and then puree in food processor or with immersion blender until smooth. You can make a large batch ahead and freeze it, taking it out as you need it for brownies, cake…or even pancakes! 
**These work well as Gluten-free brownies.  I have used buckwheat flour as well as an all-purpose gluten free flour, but I find that adding a 3rd egg, even a small one, is best when using the gluten free flours.