Co-Owner, Green Mountain Girls Farm, LLC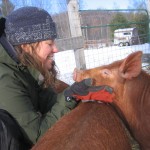 Laura Olsen runs a small, diversified farm with her partner Mari Omland. Their farm offers an Omnivore's Farm Share, providing meat, vegetables, milk and eggs year-round in a free-choice format for members. In addition to providing tasty, organically-managed food, their farm provides visitors with a connection to farms through their barn guest house and event space.
By offering tasty, healthy, local food, their farm is doing a small part to improve the lives of Vermonters.
In addition to managing the farm, Laura serves on the board of the Vermont Grass Farmers Association, a group of farmers and neighbors growing the vitality of grass-based farming in Vermont. She also serves on the board of the Floating Bridge Food and Farms Cooperative, a collective of agricultural businesses owned by families who are dedicated to locally grown food and sustainable agriculture. The Cooperative members work together to provide visitors with an authentic experience which deepens their appreciation and understanding of a working agricultural community as well as providing educational opportunities.
Prior to returning to Vermont, Laura was Managing Director of the Coalition for Smarter Growth, a three-state regional organization shaping the debate on growth and transportation policy in the Washington, DC Metropolitan Area. Laura was responsible for the day-to-day management of the Coalition for Smarter Growth, including staff management and development, hiring, fundraising, and finances, with an additional role in communications. She played a critical role in building a larger, more effective regional team of staff, volunteers, and partners working to make smart growth a reality in the Washington, DC region. In this role, she helped the organization grow from three staff to a 10-person team delivering media, policy, organizing and campaign support throughout the region.
Laura managed organizational development including the merger with Washington Regional Network, strategic planning and identifying the organization's administrative, leadership, and financial needs. She also led the organization's media campaign, ensuring the Coalition and its partners effectively used earned media to communicate their message.
As a seasoned grassroots organizer, Laura provided campaign advice and oversaw the Coalition's field campaign and developed and implemented the media campaign during its successful challenge to the highly publicized Northern Virginia sales tax referendum in 2002. She is also the primary author and technical developer of the Coalition's landmark Blueprint for a Better Region presentation. Before joining the Coalition in 2000, Ms. Olsen served as the national Field Campaign Manager for the Surface Transportation Policy Project (STPP), a national coalition responsible for the federal transportation reforms adopted by Congress in the 1990s. Prior to STPP, she worked with Green Corps, a national field school for environmental organizing.
She received her bachelor's degree from the University of Vermont.