Co-Owner, Green Mountain Girls Farm, LLC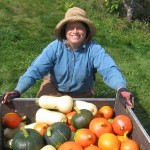 Mari Omland grew up in the hills around Rutland. In 2007, she returned to Vermont with her partner Laura Olsen to establish Green Mountain Girls Farm. They seek to provide authentic Vermont farm experiences (day visits/overnight stays/events) and food, utilizing ecologically-designed methods to provide excellent products and experiences while stimulating profit, learning, and fun with a minimized human footprint on the natural world.
Mari serves on the board of Highfields Center for Composting, whose mission is to close the loop on community-based, sustainable food and agricultural systems, thus addressing soil health, water quality, solid waste, farm viability, and climate change. They research, educate, and provide technical services for composting and comprehensive food waste recycling programs. Mari chairs the organizational development and fundraising committees.
Mari's community work has her serving as a Justice of the Peace in Northfield.
Prior to returning to Vermont, Mari was the Director of Conservation for the Appalachian Trail Conservancy (ATC) based in Harpers Ferry, WV, where she launched the Appalachian Trail MEGA-Transect and provided leadership and direction for ATC's four regional offices. Prior experience included a decade of work with Conservation International (CI) where she served on the Executive Management Team. As Senior Director for CI's West Africa program, Mari led a six country, ecosystem-wide process that engaged 90 institutions and determined regional biodiversity conservation priorities. She was also instrumental in the establishment of Kakum National Park and its canopy walkway, winner of the Condé Nast Ecotourism Award and the British Airways Tourism for Tomorrow Award.
At CI and ATC, Mari demonstrated successes managing complex project portfolios, leading teams, engaging stakeholders, and fundraising. She is a passionate conservationist, experienced in program and budget development, oversight of major facility construction, design and installation of interpretative exhibits, as well as implementation of visitor use plans and education programs.
Mari is a visionary leader and experienced manager with a natural talent for staff cultivation, outreach, alliance building, and organizational development.
Mari received a BA from Williams College, was a Watson Fellow and completed a Masters in Organizational Learning at George Mason University. She represented the United States in World Cup alpine ski racing events, and was NCAA Division I All-American, and Junior National Champion.