What's in the Kitchen?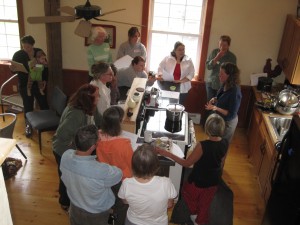 The Barn Guesthouse kitchen is furnished as you would expect for a contemporary kitchen, minus a microwave. It is set up to enable you to make and enjoy the freshest meals possible, simple or complex. In addition to the kitchen tools and gadgets, you will also find basic staples like sugar, salt, pepper, lard, and cooking oil all available for your use.
Breakfast Basket
Overnight rates include a farm-fresh breakfast/snack basket, which typically includes:
farm-fresh eggs
fresh raw goat milk (in season)
Seasonal Veggies from the farm
Salsa, pickles or another preserved item
our neighbor's maple syrup is available for purchase
Farm Stand
Looking to do some more substantial cooking during your stay? Saunter over to our farm stand to get all your provisions for a farm fresh meal. Everything from vegetables to raw goat's milk as well as a selection of pasture-raised meats raised right here on the farm. There are always eggs, milk, chicken, pork (bacon, sausage, chops, ribs & roasts) and seasonal vegetables available for sale. If you'd like specifics about what's currently available, take a look at what's On Sale at our Farm Stand this week.
Pre-ordering is also available prior to your arrival.
If you would like to enjoy farm fresh food, but don't want to do all of the cooking, a limited selection of prepared foods are available in the farmstand. We often have soups, pâté, pesto and tomato sauce available in addition to Field Stone Farm's wood-fired farmstead pizzas.