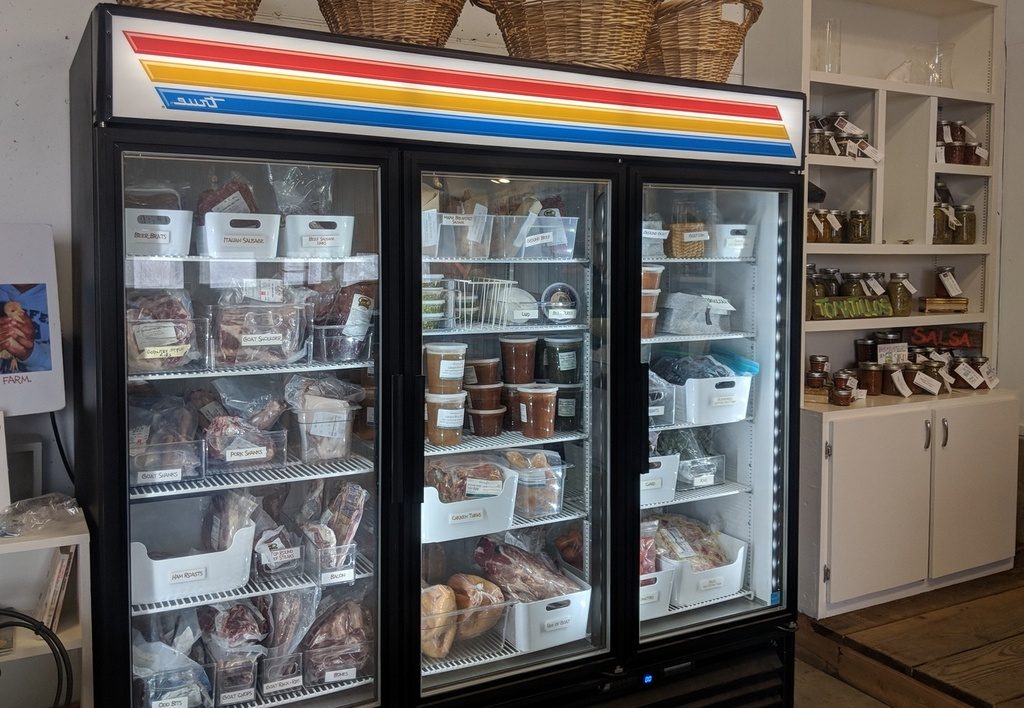 Back in January a malfunction in our farmstand freezer dimmed our mood and subsequently made shopping in the farmstand a bit like a treasure hunt! Upgrading it had been on the to do list but we were flat-footed or on our heels in terms of readiness to address the domino effect of researching, rewiring, and re-arranging.  In the last few weeks, between bouts of snow removal & mud season (how did commerce take off in this part of the world?), Laura and Donna have integrated the new shopping freezer.
We hope it makes it easier for you to find everything you need from bacon to bones to broth. Little items like pâte and pestos should be much easier to find. But none of us ever worked in a grocery store (Well except a small stint by Donna). Consider this a "soft opening" as we figure out the best ways to display and finish re-organizing the farmstand so please let us know if you see an opportunity to make the new set up serve you better. For the moment, we are like rural kids visiting the city… we simply can't stop staring at the bright lit up meat and produce. We think Field Stone Farm's pizzas & the frozen tomatoes are the stars of the show!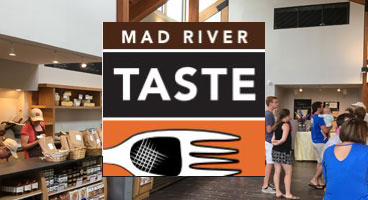 Speaking of bright new ways to shop… Mari recently attended an Agritourism Task Force meeting hosted at the Taste Place in Waitsfield. In addition to a delicious lunch, her inner exhibit developer geek was fed by the bright space, vibrant celebration of local talent and the exuberant community offer by Robin Morris and his team. As their site states, "The Mad River Taste Place supports our community's Makers and Growers through a curated experience where visitors can learn about, sample and purchase food and beverages that originate in the Mad River region and from all corners of Vermont. Stories about the Makers and Growers are told throughout the Taste Place and customers can connect directly with the producers at tasting events."
Whether a destination lunch to break your cabin fever, an apres ski stop, or a quest to quench thirst for knowledge or ferments, we suggest you make your way to the Taste Place! And thank Robin. This fantastic facility is his second gift to us all (he also established the Mad River Food Hub) and a huge boost to Vermont's effort to hold onto its working lands and their culture, the authentic underpinning to Vermont's tourism.
Finally, the brightest light for us comes from all of you who embrace our bright offers of the old ways of provisioning –straight from farmers and local makers. Thanks so much to Sydney (and Jan) friends of this and other local farms who recently posted this great cheer-leading message on Front Porch Forum,
"It's wonderful to see new businesses downtown instead of empty storefronts, and we wish every brave entrepreneur success for many years to come. Jan and I try our best to support Northfield businesses both the new ones and the established ones and encourage everyone to shop locally, first, before spending your money elsewhere. Running a business (especially in a small town) is a crapshoot, and depends on local support and patronage.  Save time – save gas – shop Northfield!"
We look forward to showing off our updated farmstand once mud season allows easier passage and seeing you all at the last Northfield Winter Farmers Market, this Sunday, April 8th 11am – 2 pm at Plumley Armory on Route 12.