adapted from Plenty by Yotam Ottolenghi
This was another of the recipes Laurie McIntosh offered during the seasonal sides cooking class.  Despite the long looking list of ingredients, they are really quite simple and forgiving as well as delicious.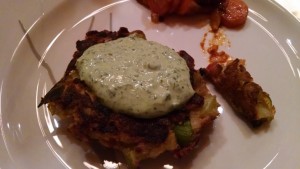 Serves 4 as side dish for main course, or up to 8 as mini-fritter appetizers
For the fritters: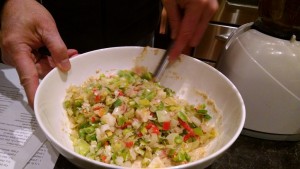 3 leeks (1 lb. total, trimmed weight)
3-4 shallots, finely chopped
1/3 c. olive oil
1 – 2 fresh red chiles, seeded and thinly sliced or dried or frozen peppers
½ c. parsley leaves and thin stems, finely chopped
¾ tsp. ground coriander
1 tsp. ground cumin
¼ tsp. ground turmeric
¼ tsp. ground cinnamon
1 tsp. sugar
¾ tsp. salt
1 egg white
1 whole egg + 1 egg yolk
¾ c. all purpose flour
1 ½ tbsp. baking powder
2/3 c. milk
4 tbsp. unsalted butter, melted and cooled
1/3 c. oil or lard for frying
To prep leeks, cut root end off and halve lengthwise, then slice in ½" wide slices.  Rinse very well in cold water, drain in colander, then pat dry with clean or paper towel.
Saute leeks and shallots in a large skillet with 1/3 c. olive oil or other fat over medium flame until soft, about 10 – 15 minutes. Tip into a large mixing bowl and add chile, parsley, spices, sugar and salt.  Let cool. Truly cool, in fact this step could be done much earlier or even day before frying up the fritters.  You don't want the egg to start cooking when you mix it with the veggies.
In a medium mixing bowl, whisk together flour, whole egg, egg yolk, flour, baking powder, milk, and butter to make a batter.  In a clean bowl, whisk egg white to soft peaks and fold gently into cooled vegetables. Add batter to vegetables and fold gently to combine.
Heat a couple of glugs of olive oil or other fat in a large frying pan over medium flame.  When hot, using a large serving spoon, ladle batter into hot oil.  Don't crowd or the oil will cool too much.  Fry for 2 – 3 minutes on each side until crisp and golden.  Continue in batches adding oil or wiping out pan as needed.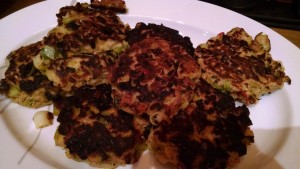 Serve warm or at room temperature with sauce.
For the sauce, blend all ingredients in food processor until bright green and relatively smooth
½ c. sour cream
2 garlic cloves, crushed with ½ tsp. salt
2 tbsp. lemon juice3 tbsp. extra virgin olive oil
½ c. parsley leaves, chopped
2 c. cilantro leaves and small stems, chopped