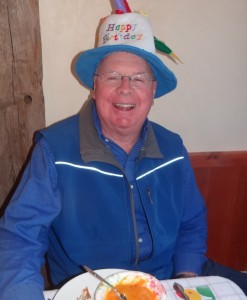 It seems fitting that in this week that our farm and neighborhood received the news that Roy Butler had passed away, we were caught up in a great, hands-on, learning adventure. We hosted thought leaders and had intimate meals and conversations. We trundled off to Montpelier and Hardwick, to Royal Butcher, Mountain Deer Taxidermy and the Mad River Food Hub. And the Williams College students, bunked up in close quarters, shadowed some of the same group dynamics of the herds out in the animal section of the barn and of the vast network of individuals and institutions comprising Vermont's Farm to Plate movement. Ultimately one student concluded "In spite of its scope, the food system is made small by the close and binding ties within the web."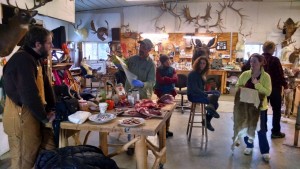 Another student put it this way. "We met people intimately involved in the food system and learned in direct, face-to-face encounters. As we learned about the hidden facets of the food system, we fittingly saw the faces of the farmers and workers who are often invisible to American consumers. Rodney, Mary, Karen… memorable personalities, and their stories gave me more than systemic understanding. They described motivations, morals, values, and missions that humanized the material and highlighted that any grand system is made up of many tiny individuals with distinct histories."
Our farm's story has a bold, bright and enthusiastic thread of Roy woven through. Liz and Roy's encouragement from our earliest days and consistently as we've grown from a start-up to a more established business has been unwavering. It has included hands-on work – when the weather patterns were unfavorable, helping us get tender beet starts in prior to a perfect rain; when tomato starts were getting leggy, potting up parties; when excess overwhelmed on the home front, sharing their garden loot with our customers, introduced with Roy's hand painted water color sign no less!
Here at the farm we notice that the invitation into the intimate is freeing. Lattes on the hoof tend to tip people across all ages and backgrounds into giggles. Diving into chores each morning seemed to help the students move past intellectual processing and establish a quick connection. As our pig parade made its way to the new barn, the deep snow and quarter mile walk demanded enough to narrow the focus while the bright sunshine and Paine Mountain put it all in perspective.
And there we all were, on our own learning adventure, reinforced by the dignity of the livestock, the beauty of this place, joy and angst of our comrades and the complexity of it all. Many knew Roy as a teacher. We were lucky to have learned from him and his curiosity, inquiry and sharing. But most of all we were lucky to bumble along in parallel, nurturing growth in ourselves and in others and sharing with vulnerability all the joys, struggles and discoveries appertaining thereto. We hope we can be to these students, a fraction of what Roy's enthusiasm for life and learning has been to us.