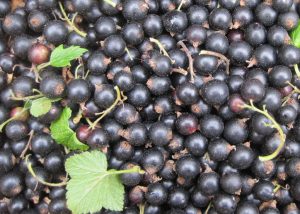 Hello August! Summer veggies are starting to roll in, some in snacking volumes this week and others are cranking!  This is the week for fresh Black Currants!  They are abundant and lovely.
Enjoy your choice of veggies with our pasture-raised meats, including a few turkey breasts & other parts that were deep in the freezer!  Some from us and other from our friends at Field Stone Farm.  We are partnering with Hannah (who has also worked with us the past few winters) this year to share abundance and what we each grow well and since we have similar farming practices and philosophies!
This week at our Farmstand you can find:
• Basil
• Black Currants  (plentiful)
• Broccoli
• Fresh Beets including Chioggia
• Carrots
• Chard
• Cilantro
• Dill
• Garlic, Freshly Out!
• Garlic Scapes
• Ginger, Baby (frozen)
• Green Beans
• Kale
• Head Lettuce (Field Stone Farm)
• Mint
• Peppers (limited)
• Salad Turnips (Field Stone Farm)
• Scallions (Field Stone Farm)
• Tomatoes – Fresh!  A few of the first little ones
• Tomatoes, Frozen
• Zucchini & Patty Pan Summer Squash (plentiful)


Meats      
• Bacon
• Maple Breakfast Sausage, Farmhouse bulk
• Bones, Pork & Goat
• Chicken, Roasting
• Chicken, Stewing Hens
• Fat, Pork Leaf
• Fat, Pork Back
• Ground Goat
• Goat Shoulder Chops, bone -in
• Ham Roasts
• Italian Pork Sausage, bulk
• Kielbasa
• Pork Jowl*
• Leg of Goat Roasts*
• Loin Roasts, Goat*(small)
• Offal & Odd Bits – Trotters, hearts, liver, kidneys, necks, Pig Heads, etc.
• Pork Chops
• Goat Ribs/Rack
• Shanks, Goat
• Goat Shoulder Roasts
• Stew Meat, Goat
• Turkey Breast
• Turkey Drumsticks
• Whole Turkeys*
Pantry & Prepared Foods
• Dilly Beans
• Lard (Leaf)
• Lemon Pickles
• Pepperoncini
• Pesto, Arugula & Garlicky Kale
• Heirloom Tomato Salsa
• Soup, Roasted Creamy Spinach, Broccoli-Spinach & Cream of Spinach
• Tomolives (pickled green cherry tomatoes)
• Dried Hot Peppers
• Dried Tomatoes
From our Farm Friends    
• Blueberries, Frozen from Spotted Dog Farm
• Honey, Brookfield Bees
• Maple Syrup, Brookfield Bees
• Cider Syrup, Brookfield Bees
This Week's Member Special
All of the above is available for members and retail shoppers, but we also offer some specials for our members.  To learn more about our flexible, free Choice Farm Share memberships, see the details on our website.
• Black Currants on the vine, it is like a pick-your-own that you take home
• Pork Jowl
• Whole Turkeys, large, but lovely
• Leg of Goat Roasts, Great for slow roast
• Goat Loin Roasts, bone-in & quick (see recipe)