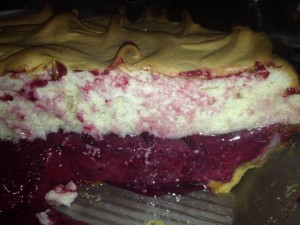 Donna made this treat last year and we were all wowed.  Now you can do this with frozen black currants as well, but while they are fresh why not pie, and perhaps some Black Currant ice cream and fool and muffins and pancakes and just in your yogurt. Or for a lighter touch, Black Currant and Mint Sorbet.  Yep, one of our favorite fruits!
Ingredients:
Pre-baked 9″ pie crust (see Donna's recipe)
6 tbsps Maple syrup (or more if you like a sweeter pie)
3 3/4 C Black Currants
3 tbsps Cornstarch
6 tbsps butter
4 Egg yolks
4 Egg whites (at room temperature)
1 C maple syrup/1 C sugar
2 teaspoons Cornstarch
Pre-heat oven to 350.
Remove stalks from black currants. Place in a pan with the maple syrup and 1 Cup water. Bring to the boil. Simmer gently for 5 minutes until the blackcurrants begin to soften. Blend with hand held blender or immersion blender.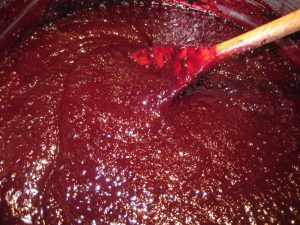 Mix 3 tablespoons of this mixture with the cornstarch to make a smooth paste. Pour back into the pan with the rest of the mixture and stir. Bring to a simmer, stirring constantly to ensure no lumps! Keep stirring over a medium heat, until thickened and smooth.
Once the mixture bubbles, remove from the heat and beat in the butter until melted. Then beat in the egg yolks.
Return to the heat and continue stirring until the mixture thickens again. Remove from the heat, set aside.
For the meringue, whisk the egg whites to medium peaks. Gradually whisk in half of the maple syrup or sugar, a spoonful at a time – VERY IMPORTANT NOT TO RUSH!
Then whisk in the cornflour, followed by the rest of the syrup/sugar. Continue to whisk until the meringue mixture is thick and glossy.
Pour the black currant filling into the pastry case and smooth. Put the pie as it is in the oven for 5 minutes to heat the filling. Remove and spoon the meringue onto the hot filling – spread the meringue to the very edges of the pie crust and swirl to make peaks, then bake for about 20 minutes until the meringue is crisp and lightly golden. Cool before eating.