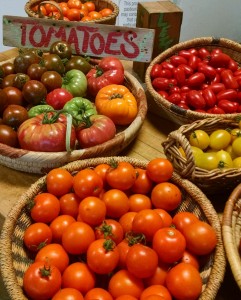 Tomato Season is in Full Swing.  Jaune Flamme, Black Prince, Rose de Berne, Red Bartely, Toronjina, Copia, Golden Rave, Juliet, Lola, Valencia, Yellow Brandywine & Amish Paste…Whew so many delightful choices!
That moment many wait for has arrived, abundant tomatoes!  Enjoy in Salsa, gazapacho, stuffed, fresh sauce, tomato pie and of course just sliced!
This week at our Farmstand you can find:
• Basil
• Beans, Green & other colors!
• Black Currants  (frozen)
• Broccoli*
• Fresh Beets, Chioggia, Red & Golden
• Chard
• Cilantro
• Corn!
• Dill
• Garlic
• Ginger, Baby (frozen)
• Kale
• Head Lettuce (Field Stone Farm)
• Mint
• Sweet Onions
• Peppers, sweet & hot
• Scallions (Field Stone Farm)
• Tomatoes: cherries, saladettes & slicers
• Green Tomatoes*
• Zucchini & Patty Pan Summer Squash*


Meats      
• Bacon
• Maple Breakfast Sausage, Farmhouse bulk
• Bones, Pork & Goat
• Chicken, Roasting
• Chicken, Stewing Hens
• Fat, Pork Leaf
• Fat, Pork Back
• Ground Goat
• Goat Shoulder Chops, bone -in
• Ham Roasts
• Kielbasa
• Pork Jowl*
• Leg of Goat Roasts*
• Loin Roasts, Goat*(small)
• Offal & Odd Bits – Trotters, hearts, liver, kidneys, necks, Pig Heads, etc.
• Pork Chops
• Goat Ribs/Rack
• Shanks, Goat
• Goat Shoulder Roasts
• Stew Meat, Goat
• Turkey Breast
• Turkey Drumsticks
• Whole Turkeys*
Pantry & Prepared Foods
• Dilly Beans
• Lard (Leaf)
• Lemon Pickles
• Pepperoncini
• Pesto, Arugula & Garlicky Kale
• Heirloom Tomato Salsa
• Soup, Roasted Creamy Spinach, Broccoli-Spinach & Cream of Spinach
• Tomolives (pickled green cherry tomatoes)
• Dried Hot Peppers
• Dried Tomatoes
From our Farm Friends    
• Farmstead Pizza from Field Stone Farm (Blueberry Marscapone, Margherita & Red Pepper Tomato Coulis)
• Blueberries, Frozen from Spotted Dog Farm
• Honey, Brookfield Bees
• Maple Syrup, Brookfield Bees
• Cider Syrup, Brookfield Bees
This Week's Member Special
All of the above is available for members and retail shoppers, but we also offer some specials for our members.  To learn more about our flexible, free Choice Farm Share memberships, see the details on our website.
• Broccoli
• Zucchini & Summer Squash
• Pork Jowl
• Whole Turkeys, large, but lovely
• Leg of Goat Roasts, Great for slow roast
• Goat Loin Roasts, bone-in & quick (see recipe)