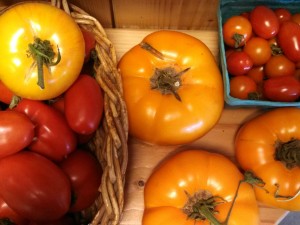 We have now started full-on tomato season.  For most people, they are the star of the summer veggies and we all have our favorites.
We choose our varieties primarily on taste.  We mostly grow heirlooms for that reason.   We are small, harvest often and can get them beautifully vine ripened and then directly to you.  We are growing a dozen varieties this year, each with their own delicious qualities suited to different uses and preferences.  Here is our introduction – sample and enjoy!
A few years ago, in the Burlington Free Press, Debbie Salamon waxed on about tomatoes, really capturing our love for the fresh, delicious summer tomato in her column. She noted,
"Tantalizing, lush, dripping elixir — garden tomatoes, like summer romance, fade with the September sun.
Be quick. Love one now."
It is true, enjoy now, we just never know how long they will be spectacular.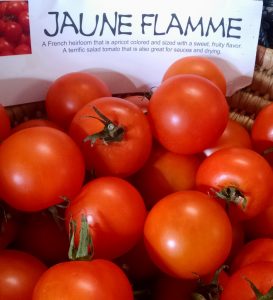 Jaune Flamme:  This is our third year growing this French heirloom and an all around favorite. It is apricot sized and colored with a sweet lovely taste.  We like it sliced, chunked for salad or just for snacking.
Rose de Berne: Dark rose-pink hue and well-loved heirloom flavor that is a perfect blend of sweet and tart.  They are nice round fruits with meaty flesh perfect for slicing with a soft skin, but not overly fragile.
Valencia: A family heirloom from Maine this mid-sized orange tomato has an excellent, full, complex tomato taste, with a great balance of acidic and sweet. Slow Food has it on their ark of taste varieties.  In size it is in between the Jaune Flamme and Yellow Brandywine

Yellow Brandywine:
A large deep golden tomato. Very rich and sweet, an individual fruit can weigh more than two pounds. A farmer favorite for its lovely flavor and texture.
Copia: At lunch this week, we voted the Copia the tastiest.  They really catch your eye as well.  They can get big and unwieldy like a Brandywine but they are large gold fruits with a blend of orange/red and green/red striping.  The sweet, juicy flesh is swirled with color throughout.

Black Prince: Medium sized, mahogany brown with a distinctive fruity tomato flavor.
Golden Rave: A golden yellow baby roma (smaller and oblong) with a sweet, well-balanced flavor great for fresh eating or cooking. One of the few non-heirlooms we grow, but the taste is lovely.
Juliet: A small, flavorful, versatile, mini roma – called a "saladette" tomato – great for fresh eating, salads, salsas, and sauce. We love to freeze them whole.  When you open the bag in January, it smells of summer!

Amish Paste: A big fat heirloom with bright red, heart-shaped fruits with meaty flavor and juicy texture. Flavorful and juicy enough for slicing and great meatiness for cooking down. Sweeter taste than other paste tomatoes.
Lola: a solid basic red slicer, one of our non-heirloom disease resistant tomatoes, just in case, that is still tasty!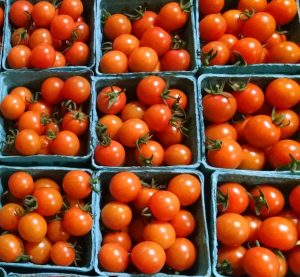 Toronjina: This is the organic seed rival for the beloved Sungold.  Neither are heirlooms – few cherries are.  This is a medium-sized orange cherry with slightly thicker skin than Sungold, but still a sweet and fruity bright orange cherry tomato. Lovingly referred to as "farmer candy".
Bartelly: A sweet red prolific cherry, perfect for popping in your mouth.  Need we say more?