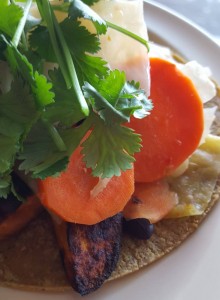 Tacos offer wonderful tastes and SO much flexibility!   Our own pasture-raised pork transformed into link chorizo sausage by Green Mountain Smokehouse offers an quick and EASY way to some delightful tacos.    Add to that the newly available LOCAL corn tortillas made in Warren by All Souls Tortilleria and it is a local delight.  Here are some ideas, but obviously add to them whatever fits your mood or is hanging out in the pantry!
Ingredients 
Chorizo
Garlic
Cilantro
Tortillas
Onions/Scallions
A few veggies of the season
Black beans (optional)
Cheese (optional)
Salsas & hot sauces
Pepperoncini, pickled jalapenos & Mexican pickled carrots
Lard or other fat for browning the chorizo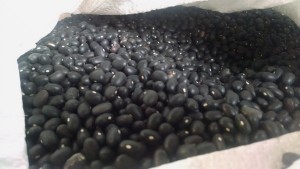 Our Basic Approach
Slice the chorizo into small rounds and brown in a pan with some lard or other leftover fat.  Takes a few minutes per side, more for bigger pieces less for smaller.
If you are also adding some cooking greens to the tacos, once chorizo is done, pull from pan and set aside in bowl.  Add some chopped onion and garlic to the pan and saute briefly then add chopped greens (kale, choys..really anything!)  and saute until done to your desired tenderness.
Chop scallions/onions, cilantro and any other veggies you want as taco toppings and put in bowls or on a plate.
Black beans cooked and then marinated in cilantro-lime dressing are always a nice addition.   Or you can add the cooked beans to the chorizo at the end of its cooking time, for a hot version.
Open all the salsas, hot sauces, pickled peppers and of course some Mexican pickled carrots. And since it isn't yet fresh tomato season, chop a little fresh cilantro and mix it into the canned salsa…next best thing to fully fresh salsa!
Heat the tortillas — which are nice done on a skillet with a touch of lard, or just warmed.
Put out the taco options and build your tacos with all of your options.
Eat & enjoy!