The 2016 growing season plan included factoring in our niece Chloe's graduation from high school in Paris. Her peers selected her as class speaker and her inspired remarks are now embedded in the rich mosaic of old world impressions we carry home. We sought an inspirational plug-in and we return electrified by a wonderful mix of rest, family time and learning adventures. We owe enormous gratitude to the farm team for enabling our long and glorious get-away.
Stone walls, stone barns, stone homes, stone streets, stone-filled soils… the longevity, simplicity and everydayness of village life drew us in.
Fast trains, high heeled shoes, art, architecture and soccer fans stand out as colorful contrasts to chateaus and canals. Perfect baguettes and pastries were the constant between villages, cities and even sprawl. Travel reminds us that our species is bold, and has been for a long time!
Touching down in small places without a hurried agenda gave us the chance to savor the difference of mineral rich, hand-harvested sea salt, and touch chords of the past via a magical encounter with Berthelemy Formentelli. and his family as they tuned the 350 year old hand-made organ he has cared for since restoring it 30 years ago.
We are lucky that it is not work for us to ignore the bling of contemporary brands, the buzz of Eurocup, the noise of media updates on Brexit and bombs.
We are lucky that our pursuit of passions has shaped us to be more "Paysan" (of the land) today than we were a decade ago. We are thrilled by our chance encounters with special people continuing mundane traditions. We are sobered that we had to work to find the remnant small-scale artisanal products and producers. In so many places and so many sectors we have lost the know-how or desire to invest in the slow, the hand-crafted, the subtleties.
Celebrating the timeless and tasty, we return with some salt from Guerande, hand tended and harvested as the wind and sun allow.  This artisanal salt, tended and gathered in same way it has been done for centuries, is a beautiful accompaniment to the food we grow with the same elements and inspiration.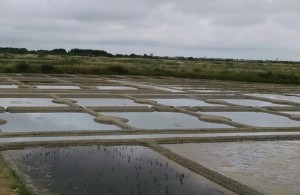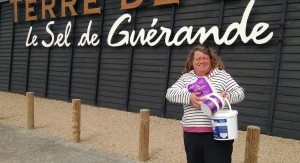 We are excited to share this small gift with all of you to celebrate the artisanal and sustainable foods and ways of life.