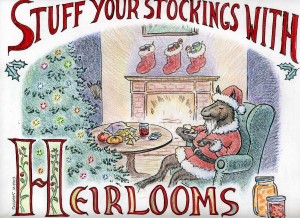 This past week, we have been busy as elves (or farmers I guess) transforming some of the growing season's bounty into delightful treats for the holiday season as well some items to make your cooking easier & local.  We packed up a lot for the Floating Bridge Food & Farms Holiday market last weekend (thanks to all that came!) and have our farmstand stocked. We are thankful for such delicious, healthy bounty and are glad some of it will be a part of your holidays as well.  Thanks for making our farm part of your 2015.
Some of the new items to treat yourself or others: 
Chicken Liver Pâté – perhaps one of Mari's best batches!
Three batches of Farmhouse Sausage – the always popular Alsatian Christmas Sausage, a new garlic sausage and more Maple Breakfast Sausage.
Black Currant Coulis, a simple puree of our black currants with maple syrup ready to top yogurt, ice cream, pancakes, desserts, meats or mix with some seltzer for a festive drink.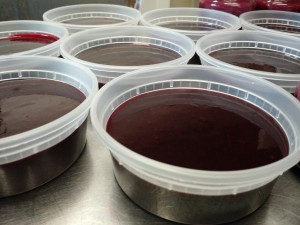 Black Currant Gastrique, our version of the classic French sweet and savory sauce, a great easy addition to our pasture-raised meats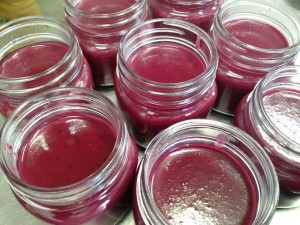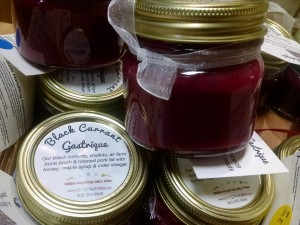 Beet Puree – make it easy to make Red Velvet Brownies or Holiday Pancakes, also a good gift to inspire a new cook with the recipe card.
Bloody Mary Mix – new batches of both our Heirloom Red Tomato as well as the Green Zebra Mary Mix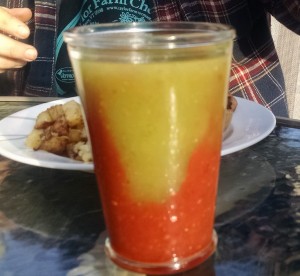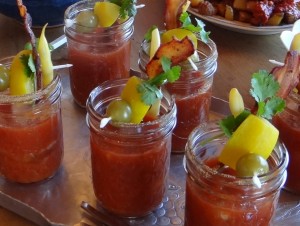 Green Zebra Tomato Juice – beautiful green zebra tomatoes juiced with a bit of salt and lemon juice.   Great on its own or make a festive holiday drink by mixing it with a Red Bloody Mary Mix.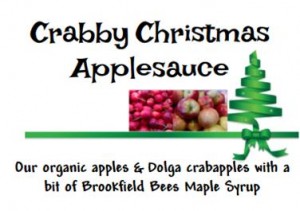 Maple Crab – Applesauce, also know by us as the Crabby Christmas Applesauce.  Made from the farm's apples mixed with some of our Dolga Crabapples giving it a lovely red color.
Bone Broths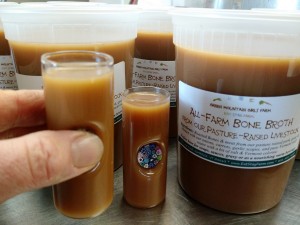 We added an All-Farm broth (pork, chicken & goat) to the freezer along with our Roasted Turkey.  Great as part of the hors d'oeuvres course or to add to your soups, sauces and gravies.
And we made another batch of lard as we had nearly sold out!  Plenty of Leaf Lard & regular lard for cooking and baking. Check out Donna's pie crust recipe & tips and WCAX's piece on our pasture-raised lard.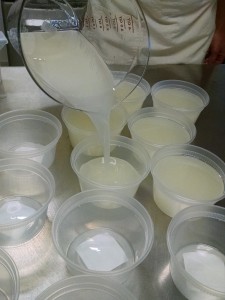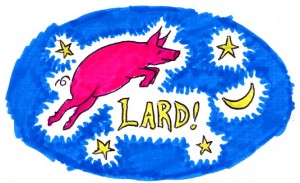 All from our pasture-raised livestock and organically managed veggies and fruits.
And a bunch of gift baskets!  small and big, mixing our farm fresh products with some of the sweet treats from our friends in the Floating Bridge Food & Farms Coop.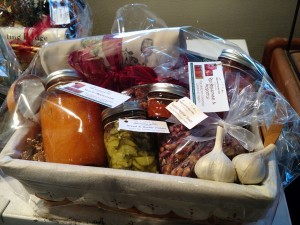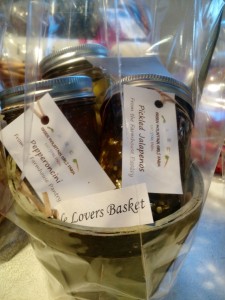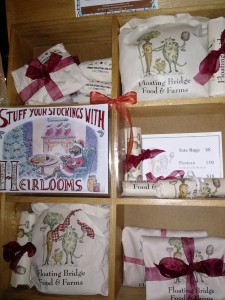 More localvore holiday gift and cooking ideas in our post on Cultivating Meaningful Holidays. 
Thanks to Anna Svagzdys for her great artwork that captures great moments of farm life, real and imagined.