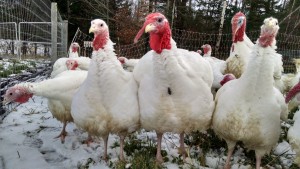 We love our turkeys. And this year's group came to us amidst the weasel troubles. We bonded more than normal via extra nightly visits, timed to be there at just the right light to close them all in the horse trailer and early morning releases onto their pasture. As a result they are even more imprinted on us than usual and they were the easiest birds ever to move to new pasture, even plots not adjacent! As we walked them to pasture near the barn (preparing for tomorrow's processing) we couldn't help think about the old days when Vermont farmers walked their turkeys to Boston and other concentrated markets to the south, a story well told by Peter Gilbert on Vermont Edition and in this Rutland Herald article.  Our thanks to the turkeys for making us giggle with their gobbles and curious inspections of anything new and of course for providing a delicious, healthy meal for so many folks.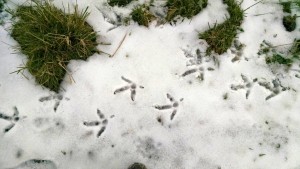 We also love our staff – which is especially important to say at the end of the growing season, when nerves can be a bit frayed! As if the force of Andrew's focused and fast work consistently serving this farm isn't enough, periodically throughout the season he multiplies into "Team Andrew".
We are grateful in advance thinking not only about Andrew doing the heaviest lifting tomorrow, taking the big birds freshly killed birds from Mari through the window and dunking them in the scalder  until wing feathers are easy to pluck at which time he'll hand off to his Mom, Helen a total ringer on the plucker and his Dad, Larry who tackles the tendons and removes the feet prior to passing along to Laura, Penelope and Keagan for eviscerating, with Donna detailing birds and moving them quickly to the chill tanks.
When we stop for lunch we will all express our gratitude to Penelope who has dedicated a year and one-half of care and work to the farm. She is creative and committed and is officially (via this resolution) a farmer emeritus. She is off to work as long planned with her techie hat on at Empower Mobility and remains committed to advancing the multi species livestock ap she has developed.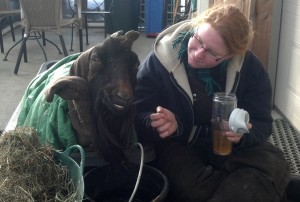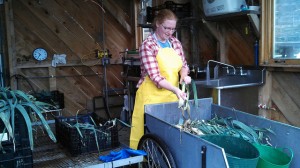 After Monday's processing and celebrating Penelope's service, we'll continue to swarm to harvest the Brussels sprouts, kale and cabbage which got be-snowed in the recent cold snap. We all look forward to having them in the walk-in and to stop wrestling row cover in the cold and snow!
Hopefully some of these cold-sweetened veggies will adorn your holiday table. Some of us took seasonal side dishes to the next level under the tutelage of Laurie McIntosh in our first cooking class of this winter season. Recipes for the squash and kale lasagna and rustic onion tart will follow soon on the website. If you can squeeze one of Laurie's next classes into your calendar, you will be treated to not only practical tips for cooking farm-fresh food at home but also enjoy an evening of fun cooking comradery and great eats. Next class is Thursday December 11th 5-7:30pm.
Anyone in the neighborhood will have noticed we are making progress on the new barn behind John and Kathy's home, aka "the farmhouse inn". Seth Kelly and his team of timber framers worked long days through the cold snap and we are grateful for their continuing efforts. More on the barn and team coming soon but for this week Jeb Wallace wandered by to document their work in the Times Argus!
Finally, we are grateful to all of you who support us as farm share members, regular customers or cheerleaders from afar. We look forward to having more time in the months ahead to converse with you and plan for next season and get your feedback on how we can make the farm more relevant to you or others you may know.
With gratitude and appreciation,
Laura, Mari and the team