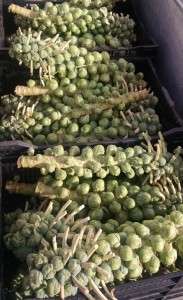 Some of you may still be enjoying leftovers…if you haven't tried the Roasted Turkey & Squash soup we recommend it!  And for those ready to dive into other delicious late fall dishes we have lots to choose from! The sprouts are fantastic!  In addition to the great roasted recipe below.
Farmer Emeritus Alexa just posted a delicious photo of a Sprout/Sausage hash with onions, nuts, homemade croutons and parsley..perhaps pesto instead?
This week at our Farmstand you can find:
Eggs (regular size & cute pullet eggs from our Rhode Island Red hens just starting to lay)
Fresh/Stored Veggies
Acorn Squash
Beets
Brussels Sprouts
Buttercup Squash
Butternut Squash
Cabbage
Carrots
Delicata Squash
Garlic
Kale
Leeks
Onions, Red & Yellow
Pesto
Potatoes
Pumpkins – Long pie, Cinderella & Long Island Cheese (limited)
Shallots
Sweet Potatoes
Turnips
Herbs
Meats
Pork Belly
Bones, Pork & Goat
Chicken, Roasting
Chicken, Stewing Hens
Chicken Legs & Thighs
Chicken Breast
Fat, Pork Leaf
Fat, Pork Back
Goat Ribs/Breast
Ground Pork
Hocks, Pork, un-smoked
Italian Sausage, bulk
Leg of Goat Roasts
Offals
Pork Chops
Ribs, Pork
Shanks, Goat
Turkey Breast, frozen
Turkey Thighs, frozen
Turkey Drumsticks, frozen
From the Pantry
Heirloom Red Bloody Mary Mix
Green Mountain Mary Mix (Heirloom Green Tomato Bloody Mary Mix!)
Dilly Beans
Green Tomato Pickles
Hot Sauces – canned & frozen
Jardinere
Chopped Frozen Onions
Pickled Jalapeños
Heirloom Tomato Salsa
Tomato Paste
Tomato Puree
Farmhouse Tomato Soup
Dried Tomatoes
Dried Hot Peppers
Turkey Stock  
From our Friends
Pumpkin Puree from Two Worlds Farm
New Round of Pizzas from Field Stone Farm!  — Multiple flavors while they last including Beet; Roasted Leek; Pesto,  Delicata Squash & Cranberry bean Pizzas
Cider Syrup from Brookfield Bees
Caramel from Fat Toad Farm including new Cold Brew Coffee flavor
Maple Syrup from Spotted Dog Farm & from Brookfield Bees
Blueberries from Spotted Dog Farm
Organic Shopping Bags from Spotted Dog Farm
 *Items in italics and from our farm friends are not included in the Omnivore Share, but are available to Omnivore's at a 10% discount.