Late moon rises combined with the clearest and crispest of nights made it hard not to notice the sky earlier this week. And last week it was the full moon which drew our
attention. Humbling and beautiful stuff!  But different than farmers of old and indigenous people everywhere, when it comes to planning our activities and forecasting the weather, we have our eyes on the screen and ears tuned into the radio.
With this year's naming them being "weather", when Jenga gave birth to triplets we thought we should honor the meteorologists we listen to on VPR at the end of many a farmer lunch… thus the new goats came to have their names Breen, Maleski and Hayes!  We hope the Eye on the Sky "boys" as we affectionately refer to the Fairbanks Museum team, feel the honor and respect of this act.
We juggled the lovely green starts in and out from the heated barn to the unheated hoophouse trying to get them hardened off so we can get back on schedule with early Spring planting. And Laura juggled Mari who underwent hoof work… surgery to repair a torn ligament in her foot (a repetitive use injury from late last growing season) and some other nearby stuff that needed tweaking. Amidst Mari's surgery Penelope ably oversaw Worldbeat's delivery of Doppler and called Laura to report the second kid was huge and presenting in an undesirable position. Despite everyone's best efforts, this kid didn't make it. But the team, including Andrew's folks, on another working visit, gave the big little guy a chance to still contribute and tucked him into the warm compost pile on the hill.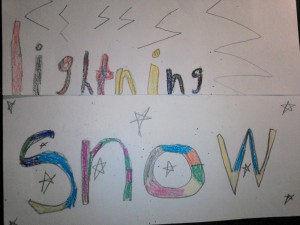 Weather has been an engaging naming theme, especially against this winter's drama of repeated cycles of incessant cold with some impressive snow depth too. Mrs. Morvan's (Hannah's) First Grade class are part of the NOFA program partnering farms with school classes and they delivered a beautiful array of name ideas replete with illustrations and letters to us farmers. They have just studied weather! Their art prompts us to remember other seasons.
Thus Grace's identical twins born at the start of our Sugaring Season Brunch were dubbed Thunder and Storm! It was a fitting theme for the day as well. In all 79 guests of all
ages swarmed to enjoy the farm in its full wintery delight. Many enjoyed Ian's demo on syrup grading and Chandra's homemade doughnuts floating in their Field Stone Farm maple syrup, and other delicious treats from their farm and ours ably served up by Donna and Magen Farley in the barn event space. Roughly twenty attended Marda's demo making sugar on snow and maple candy with the syrup she and Dan produce at Brookfield Bees. And Laura and Penelope welcomed guests and new goats to our world at the farm and left the entertainment of our guests to the stars of the day, the kids.