Spinach is abundant!  Need we say more.  How 'bout a spinach omelet…to welcome in April!  And we have hard boiled eggs available for instant enjoyment or bring home a dozen. Enjoy! !
This week at the farmstand you will find:
Eggs (Plentiful)
Hard Boiled Eggs*
Fresh/Stored Veggies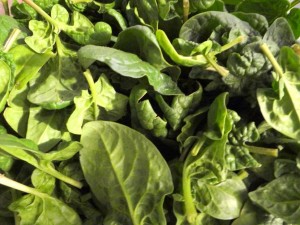 Broccoli, frozen
Carrots
Chard, frozen
Garlic (in the freezer)
Green Beans, frz
Pesto
Potatoes (Lots!)
Pumpkins (last ones)
Spinach
Tomatoes, Frozen!
Veggies in the Pantry
Bread & Butter Pickles
Dill Pickles (Chunks)
Dilly Beans
Green Tomato Pickles
Hot Sauces
Jardinere
Pickled Jalapeños
Lemon Pickles
Localvore Bloody Mary Mix*
Pepperoncini
Heirloom Tomato Salsa
Crushed Tomatoes
Tomato Juice
Tomato Paste
Tomato Puree
Meats
Bacon & Bacon Ends
Small Boneless Pork Cuts (grilling steaks, medallions, pan fry steaks, etc.)
Bones, Pork & Goat
Breakfast Sausage, bulk
Chicken, Roasting
Chicken, Boneless Breast*
Chicken, Legs & Thighs*
Chicken, Wings*
Fat, Pork
Leg of Goat Roasts
Goat Stew Meat
Ham, bone in roasts
Lard*
Offals (Pork, goat & poultry liver, kidney, heart and necks)
Bone-in Pork Roasts
Spare Ribs, Pork
Shanks, Goat
Stock, Roast Goat & Pork*
Stock, Poultry*
Turkey Thighs
Turkey drumettes
Turkey wings
From our Friends in the Floating Bridge Food & Farms Cooperative
Raspberries from Spotted Dog Farm*
Blueberries from Spotted Dog Farm*
Cider Syrup from Brookfield Bees*
Caramel from Fat Toad Farm*
Most will be available throughout the week.
Items with a star* are not included in the Omnivore Share but are available for purchase to all and Omnivores get a 10% discount.