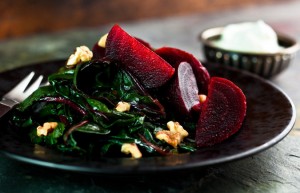 Last chance for beet greens with your beets for this season! 
Adapted from a recipe in NY Times. 
1-2 lbs beets with greens
2-3 tablespoons extra virgin olive oil, lard, bacon fat or other good fat
Salt and freshly ground pepper
1-2 Tablespoons Lemon Juice
1 to 2 garlic cloves (roasted or fresh)
1 cup drained yogurt
3 tablespoons chopped walnuts (optional)
1. Preheat the oven to 425 degrees. Cut the greens away from the beets, leaving about 1/4 inch of stems. Scrub the beets and chop into chunks. Toss with the fat of your choice, salt and pepper and place in a baking dish, skillet or other ovenproof casserole.  Place in the oven and roast beets 30 to 45 minutes, until easily penetrated with the tip of a knife. You can stir once or twice during roasting to ensure better browning and even cooking, but not necessary. Remove from the oven and allow to cool in the covered baking dish.  Keep an eye, the smaller you chunks the quicker they will cook.
2. While the beets are in the oven, wash beet greens and roughly chop.  You can chop the stems into smaller pieces. Place in a bowl.
3. Heat a large, wide skillet over high heat and add the greens by the handful, stirring each handful until the greens wilt in the water left on the leaves after washing. Once one batch has wilted, add another until all of the greens are wilted. Add 1-2 tablespoons olive oil or your fat of choice, turn the heat down to low, season with salt and pepper, cover and simmer for 5 minutes. The greens should be tender but still bright. Add 1 tablespoon lemon juice, toss the greens in the pan, taste and adjust seasoning. (Note: if you are not serving this right away, don't add the lemon juice, as it will change the bright color of the greens; instead, add shortly before serving).
You can transfer the greens to a platter or serve the dish right from the pan. Whether in the pan or on a platter, arrange the beets on top of the greens. Drizzle on the remaining olive oil and squeeze on more lemon juice to taste. Mash the garlic to a purée with a pinch of salt in a mortar and pestle and stir into the yogurt. Place spoonfuls of yogurt over the top of the beets and beet greens, sprinkle on the walnuts and serve, with grains if desired.
(also great if you roast the garlic in with the beets!)