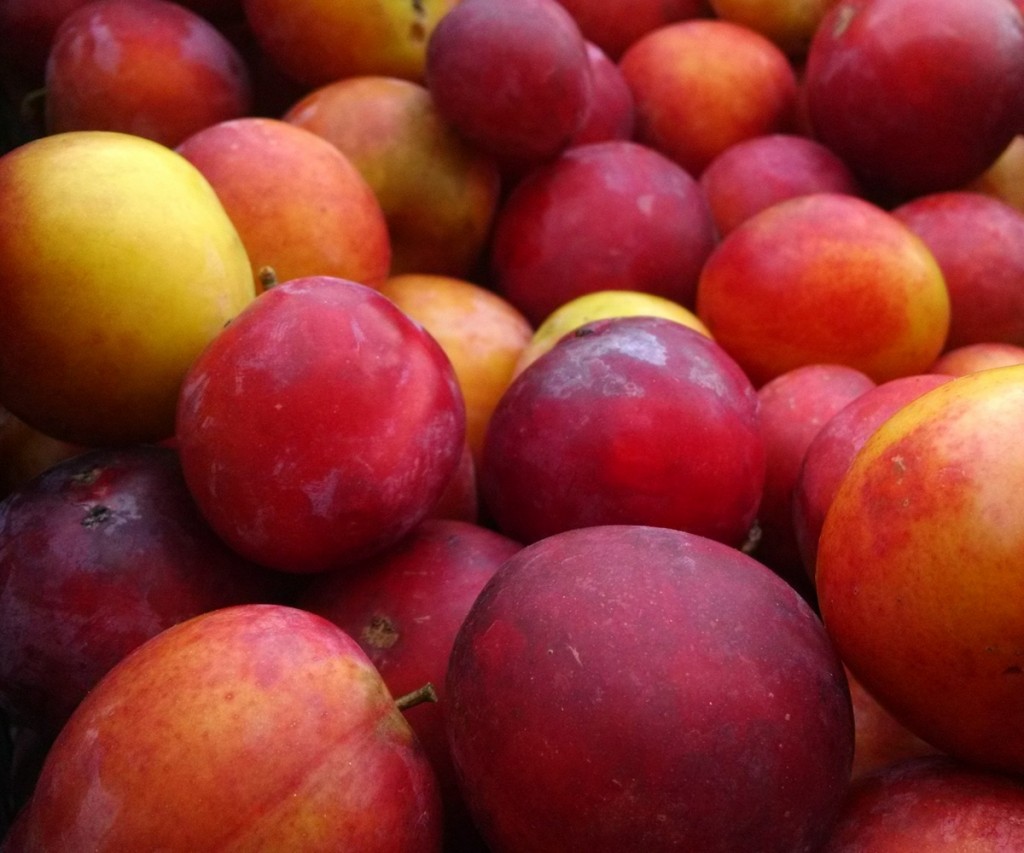 Wow, August abundance is here, no doubt.  The challenge is just how to enjoy it all!  Just how many meals can include fresh, delicious tomatoes?
And for the first time we have our own organic plums for sale!  An orchard is an investment and we have been waiting 6 years, but we have a great batch and some for sale.  We also have some Dolgo crabapples, which are super high in pectin so great for processing with other fruit, but they also have their own lovely tart apple flavor and can be enjoyed in the same ways as apples.
Any items marked with "Lots" is available in processing volumes.  If you plan to do so let us know and we will harvest extra. 
This week at our Farmstand you can find:
• Raw Goat's Milk (on farm only)
• Eggs
Fresh/Stored Veggies & Fruits
• Arugula
• Beets, LOTS!
• Baby Carrots
• Chard, Fresh, LOTS!
• Cucumbers
• Dolgo Crabapples
• Eggplant
• Fennel
• Garlic
• Green Beans, LOTS!
• Kale, Plenty!
• Lettuce Mix
• Onions/scallions
• Peppers – sweet & hot
• Pesto: Arugula, Basil, Cilantro, Garlic Scape & Kale
• Plums
• Potatoes
• Squash Blossoms
• Summer Squash
• Tomatillos
• Tomatoes, cherry, salad & slicing, LOTS!
 Herbs -Pick Your Own & Farmstand
• Anise Hyssop
• Basil
• Chamomile
• Cilantro
• Dill
• Mint
• Nasturtium Flowers
• Oregano
• Parsley
• Sage
• Summer Savory
• Thyme
Meats
• Bacon
• Pork Belly
• Bones, Pork & Goat
• Chicken, Roasting!
• Fat, Pork Leaf
• Fat, Pork Back
• Pork Jowl
• Ground Goat
• Goat Ribs/Goat Breast
• Ham Steaks & Roasts
• Leg of Goat Roasts
• Offals – all sorts!
• Pork Chops
• Pork Roasts – Shoulder, semi-boneless rib roasts, Boneless boston butt, and more
• Smoked Polish Sausage
• Turkey Breast
• Turkey Wings & drumsticks

From the Pantry & Prepared Foods
• Dilly Beans
• Green Tomato Pickles (Curried, smokey & Relish)
• Hot Sauces – canned & frozen
• Pickled Jalapeños
• Pepperoncini
• Tomolives
• Tomato Juice
• Heirloom Tomato Salsa: Mild, Medium, Smokey, Chunky, or No-Salt versions
• Tomato Paste
• Dried Hot Peppers
• Farmhouse Soups:Vegetarian Borscht & Carrot Ginger
From our Friends
• Pizza! From Field Stone Farm (Grilled Onion, Fennel & Chorizo; Rustic Potato & Gorgonzola; Beets with Goat's Milk Feta, Onions & Honey; Basil Pesto with Onions & Roasted Tomato)
• Maple Syrup from Brookfield Bees
• BEANS!  – Black Beans & King of the Early from Morningstar Meadows Farm
• Pumpkin Puree from Two Worlds Farm
• Honey from Brookfield Bees
• Caramel from Fat Toad Farm
• Organic Shopping Bags from Spotted Dog Farm
*Items in italics and from our farm friends are not included in the Omnivore Share, but are available to Omnivore's at a 10% discount.