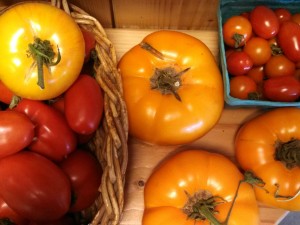 We have now started full-on tomato season.  For most people, they are the star of the summer veggies and we all have our favorites.
We choose our varieties primarily on taste.  We mostly grow heirlooms for that reason.   We are small, harvest often and can get them beautifully vine ripened and then directly to you.  We are growing more than 10 varieties this year, each with their own delicious qualities suited to different uses and preferences, and we'd love to introduce you and may you enjoy!
A few years ago, in the Burlington Free Press, Debbie Salamon waxed on about tomatoes, really capturing our love for the fresh, delicious summer tomato in her column. She noted,
"Tantalizing, lush, dripping elixir — garden tomatoes, like summer romance, fade with the September sun.
Be quick. Love one now."
It is true, enjoy now, we just never know how long they will be spectacular.
Brandywine: Big, beautiful fruits that first brought recognition to the term heirloom. Well known and loved for its perfect flavor balance of sugars and acids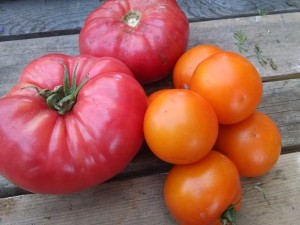 Jaune Flamme:  This is our third year growing this French heirloom and an all around favorite. It is apricot sized and colored with a sweet lovely taste.  We like it sliced, chunked for salad or just for snacking.

Moskvich: Deep red, smooth, and globe shaped, not as big as a brandywine. A classic tomato with rich flavor.

Yellow Brandywine:
A large deep golden tomato. Very rich and sweet, an individual fruit can weigh more than two pounds. A farmer favorite for its lovely flavor and texture.

Black Prince: Medium sized, mahogany brown with a distinctive fruity tomato flavor.
Golden Rave: A golden yellow baby roma (smaller and oblong) with a sweet, well-balanced flavor great for fresh eating or cooking. One of the few non-heirlooms we grow, but the taste is lovely
Juliet: A small, flavorful, versatile, mini roma – called a "saladette" tomato – great for fresh eating, salads, salsas, and sauce. We love to freeze them whole.  When you open the bag in January, it smells of summer!

Amish Paste: A big fat heirloom with bright red, heart-shaped fruits with meaty flavor and juicy texture. Flavorful and juicy enough for slicing and great meatiness for cooking down. Sweeter taste than other paste tomatoes.

Sun Gold: Exceptionally sweet and fruity bright orange cherry tomato. Lovingly referred to as "farmer candy".  We are also trying a new variety called, Toronjina, similar to a sungold but the seed is organic.  So far, so good!

Black cherry: A larger purple-red sweet cherry tomato with a
more complex flavor and so lovely.