The Floating Bridge opening and celebration was amazing!

As we arrived in Hippo Park, Sandy Schmitt, VTrans Bridge engineer and Brookfield resident was scooting around with a wheel barrow tidying up final bits, green volunteer shirted folks and balloon arches were visible and the air was full of excitement and a good dose of chill!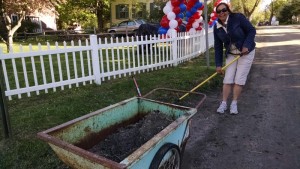 For the Floating Bridge Food and Farms Cooperative and our farm it was a wonderful day of connecting with folks from near and far. The whole while a splendidly orchestrated volunteer effort made it easy for all to enjoy historic displays, entertainment and walking on the new magnificent bridge. Top that off with live music, a parade, animated speeches by local and state officials, Governor Shumlin and Representative Welch and eventually a dance and fireworks. It was small town America at its best, confirmed when a volunteer remarked at clean up that she really couldn't find trash left behind.
Luckily that quintessential village atmosphere and all the great people of Brookfield who welcomed and celebrated, Ariel's Cantina (for lunch) and Restaurant are always there as a special destination, accessible yet remote, state of the art, yet steeped in history!
Back at the farm we were busy with the bridge and excited to host lattes on the hoof and tours….
Besides regular chores sows farrowing, doelings kidding, hoop house transplanting, irrigation troubleshooting,  and field weeding and amending. Those things were all on the list.
Emergency goat surgery wasn't, Thankfully, Alison, our vet is calm & swift and Lightening seems to be recovering well, ready to join Jenga as our one-eyed mascots.