The Floating Bridge is a notable landmark and a special gathering spot.  So special that it is the namesake for our cooperative of local businesses that offer people the opportunity to experience small farm living, locally raised farm products, and the seasonal beauty of Central Vermont's working agricultural landscape, the Floating Bridge Food & Farms Cooperative.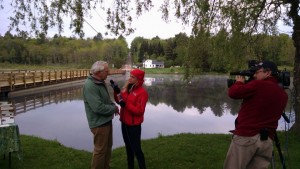 This Saturday, May 23 from 11:00am – 4:00pm, members of Floating Bridge Food & Farms Cooperative will be taking part in the celebration of the newly rebuilt 8th (!) Floating Bridge across Brookfield's Sunset Lake.  This historic one lane bridge, dating back to the 1820 original construction of logs strapped together on top of the frozen winter lake by Luther Adams and neighbors, has now been rebuilt to replicate the 7th bridge but with space-age flotation technology and wider accessible sidewalks.
Our farm will be there market style with both ready to eat farm-fresh snacks including localvore bloody mary's and Red velvet brownies as well as great farm fresh produce, meats, eggs and pickles!
See more about what will happen on Saturday in the live interviews with Local 22/44's Alaina Pinto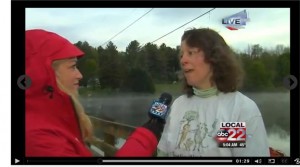 Enjoy Food, Music, Crafts, Local Products, and Dedication Speeches from Congressman Peter Welch and Governor Peter Shumlin. The new bridge officially opens with a parade across the bridge on Saturday from 2:00 to 3:00 pm at which point the roadway, part of Vermont Route 65, will be open for regular traffic.
Saturday from 2:30-4:00pm Ariel's Cantina will offer $2.00 Green Mountain Girls Goat Tacos paired with a brand new beer from Bent Hill Brewery – the Luther Adams Floating Bridge Brown Ale.  Ariel's Cantina will be open with a full menu from 11:30am – 2:30pm on Saturday and Sunday and open for dinner as well, but call (802-276-3939) for dinner reservations.
AND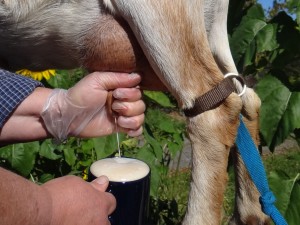 There are farm tours as well.  We will be hosting folks Saturday & Sunday morning 9-11 am for Lattes on the Hoof & Farm Tours $10/person
And you can check out LH Stowell Christmas Tree Farm and the cool electric train Sat at 10:30 and Sunday at 1:30 (no charge)
Fat Toad Farm is also doing tours – sign up on their website!
For more information go to the Brookfield Floating Bridge Celebration Facebook page and check out the full schedule of events – there is something for everyone!
Much appreciation to everyone who made this upcoming bridge and celebration possible, what a great destination for those from near and far!
Fortunately, even if you miss the grand opening, on your next visit to the area you can partake in tours, farm experiences and the magic of dining on local farm fresh food prepared by an amazing chef all while enjoying a view of Sunset Lake and the Floating Bridge.
Green Mountain Girls Farm and the members of the Floating Bridge Food & Farms Cooperative invite those from near & farm to enjoy Vermont's working landscape and welcome you into our kitchens, barnyards and lives.