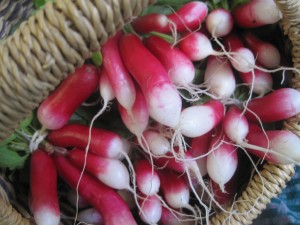 Wow, sudden summer, while you are looking for spring perhaps you'll need some Mint Mojitos. There are lots of great fresh greens, milk and eggs and lots of herbs as well as all the other treats in the farmstand.
This week at our Farmstand you can find:
Fresh/Stored Veggies
Arugula
Bok Choy
Beets
Carrots
Chard
Chard, Frozen
Cilantro
Garlic
Fresh Green Garlic
Green Beans, Frozen
Kale
Mint
Mustard Greens, Purple & Green
Oregano
Pesto, Basil & Cilantro
Potatoes
Radishes
Sage
Salad Greens
Shallots
Thyme
Tomatoes, Frozen
Meats
Pork Belly
Bones, Pork & Goat
Fat, Pork Leaf
Fat, Pork Back
Pork Jowl
Ground Goat
Goat Ribs/Goat Rack
Goat Shoulder & Loin Roasts
Ham, bone-in roasts
Ham Steaks
Leg of Goat Roasts
Offals – all sorts!
Pork Chops
Pork Roasts – Shoulder, semi-boneless rib roasts, boston butt, and more
Shanks, Goat
Smoked Polish Sausage
Turkey Breast
Turkey Thighs
Turkey Drumsticks & drumettes
From the Pantry
Heirloom Red Bloody Mary Mix
Green Mountain Mary Mix (Heirloom Green Tomato Bloody Mary Mix!)
Bread & Butter Pickles
Dilly Beans
Green Tomato Pickles (Curried, smokey & Relish)
Hot Sauces – canned & frozen
Marinara Sauce, Frozen
Chopped Frozen Onions
Pickled Jalapeños
Pepperoncini
Tomolives
Tomatillos
Tomato Juice
Heirloom Tomato Salsa
Tomato Paste
Dried Tomatoes
Dried Hot Peppers
Farmhouse Soups: Carrot Ginger(V), Vegetarian Borscht
From our Friends
Maple Syrup of many sizes & grades from Brookfield Bees
BEANS!  – Black Beans & King of the Early from Morningstar Meadows Farm
Pumpkin Puree from Two Worlds Farm
Honey from Brookfield Bees
Caramel from Fat Toad Farm – Fully restocked with Spicy Chocolate, Maple, Salted Bourbon, Vanilla, Cinnamon, Cold Brew Coffee & Original
Blueberries from Spotted Dog Farm
Organic Shopping Bags from Spotted Dog Farm
Pussy Willows, multiple types! from Third Branch Flower Farm
*Items in italics and from our farm friends are not included in the Omnivore Share, but are available to Omnivore's at a 10% discount.