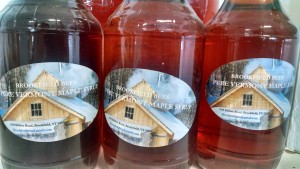 Great local food and plenty of it at the Farmstand and this weekend's Floating Bridge Celebration. And we are restocked with fresh Maple Syrup, Honey & Caramel from our partners at Brookfield Bees & Fat Toad Farm.
This week at our Farmstand you can find (and much of it will also be with us at the Saturday Floating Bridge Market 11-4 in Brookfield Village):
Raw Goat's Milk
Eggs, LOTS!
Fresh/Stored Veggies
Arugula
Bok Choy
Beets
Braising/Cooking Greens,
Carrots
Chard, Frozen
Cilantro
Garlic
Fresh Green Garlic
Green Beans, Frozen
Kale
Mustard Greens, Purple & Green
Pesto, Basil & Cilantro
Potatoes
Salad Mix
Shallots
Tomatoes, Frozen
Meats
Pork Belly
Bones, Pork & Goat
Fat, Pork Leaf
Fat, Pork Back
Pork Jowl
Ground Goat
Goat Ribs/Goat Rack
Goat Shoulder & Loin Roasts
Ham, bone-in roasts
Ham Steaks
Leg of Goat Roasts
Offals – all sorts!
Pork Chops
Pork Roasts – Shoulder, semi-boneless rib roasts, boston butt, and more
Shanks, Goat
Smoked Polish Sausage
Turkey Breast
Turkey Thighs
Turkey Drumsticks & drumettes
From the Pantry
Heirloom Red Bloody Mary Mix
Green Mountain Mary Mix (Heirloom Green Tomato Bloody Mary Mix!)
Bread & Butter Pickles
Dilly Beans
Green Tomato Pickles (Curried, smokey & Relish)
Hot Sauces – canned & frozen
Marinara Sauce, Frozen
Chopped Frozen Onions
Pickled Jalapeños
Pepperoncini
Tomolives
Tomatillos
Tomato Juice
Heirloom Tomato Salsa
Tomato Paste
Dried Tomatoes
Dried Hot Peppers
Farmhouse Soups: Carrot Ginger(V), Vegetarian Borscht
From our Friends
Maple Syrup of many sizes & grades from Brookfield Bees
BEANS!  – Black Beans & King of the Early from Morningstar Meadows Farm
Pumpkin Puree from Two Worlds Farm
Honey from Brookfield Bees
Caramel from Fat Toad Farm – Fully restocked with Spicy Chocolate, Maple, Salted Bourbon, Vanilla, Cinnamon, Cold Brew Coffee & Original
Blueberries from Spotted Dog Farm
Organic Shopping Bags from Spotted Dog Farm
Pussy Willows, multiple types! from Third Branch Flower Farm
*Items in italics and from our farm friends are not included in the Omnivore Share, but are available to Omnivore's at a 10% discount.