Thursday… volunteers bolstered our reserve and helped us gain more road frontage back from chervil and more progress was made on Saturday. Thanks Liz, Martha and Molly! More folks are coming this Thursday, do join if you can (for any sliver or chunk of time from 3:30-6:30. Spring abundance brought a bright array of greens to the farmstand and summer temps made winter hard to remember.
Friday… Jeb Wallace and his mentee Nathan joined us in the milking barn for lattes on the hoof and potato planting, taking photos to go with Anne Nadel-Walbridge's nice feature article on the farm. These Times Argus links will give you access to more of Jeb's fun photos of the farm and our nesting killdeer. This video (farmer quality) gives you a glimpse of their dramatic "broken wing" decoy dance. Later that same day our new-to-us tractor arrived and once again Gary Davis saved the day, unloading the heavy disc bedder attachment from the trailer.
Saturday… Uno went off for a spa day with Louise Delia. The results speak for themselves! Farmstay guests enjoyed a gorgeous day celebrating their Norwich University graduates, topped off with a farmhouse dinner and Donna's homemade cake, while staff and volunteers attacked chervil & quack.
Sunday… Our four generation farmstay family enjoyed a farm-fresh Mother's Day brunch and lattes on the hoof. Imagine our delight when we figured out that Doris Moore (the great-grandmother) and Bob and Holly Kumpf knew Mari's Aunt Betty and Uncle Fred and their farm in Liberty Corner, NJ. Punctuating Mothers Day perfectly, Nimbus delivered at noon! Given that Kathy (Laura's Mom) was also celebrating her birthday, she had naming rights… without hesitation, they were dubbed Johnny and June (Cash).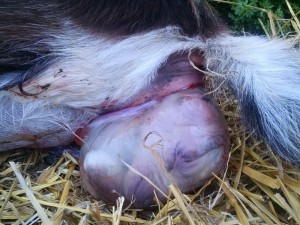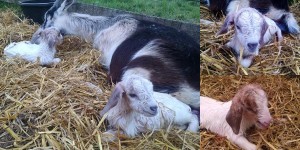 Monday… Hens out to pasture finally and a frenzied effort to prep and amend the beds for the major mid-May plant out prior to rain. And as the much needed rain arrived we got the very pregnant sows moved to their farrowing digs in and around the barn.
Tuesday… The second of four Fat Toad Farm doelings, Lightening, delivered a female singleton (yet to be named), and the team readied the hoop house for the heirloom tomatoes.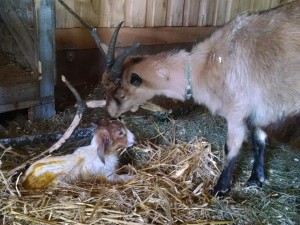 Wednesday… is unfolding with plumbers fixing pipes blown out by our extreme winter, greens being harvested, tomatoes and peppers potted up in the greenhouse, the sows readying for farrowing up in the new barn, goats eating grass, hens scratching in the woods and the team choring away!