This overnight (or all day) roast is great right out of the oven, in fact perhaps my favorite part is the picking so I can enjoy some of the crispy, salty fat edges as well as bites of the tender juicy meat.  But the final product is also fabulous for pulled pork barbecue or tacos!  With some of the Green Chili sauce, you can make fabulous tacos or enchiladas!
We are so thankful for Niki posting this on Foodwhirl!
Cook while you sleep! From Foodwhirl.com
 I love to cook, but I also love tips that make it easy and efficient at times.  One of my favorites – the (super easy) overnight roast pork.

Discovered this recipe a few years ago, while looking for an efficient way to cook a few pork roasts before adding them to barbecue sauce. Tested it out, popping a few small pork roasts into the oven one Friday night after getting a doe and her new kids all settled. And presto, Saturday morning awoke to delicious pork roast ready to be eaten or cut/pulled and mixed with any sauce.  It is now a coveted job..pulling pork once it comes out of the oven as at that moment the salty, crispy fat is such a treat!
Ingredients
Pork Roast (any type,but ideally with a decent layer of fat)
Salt & Pepper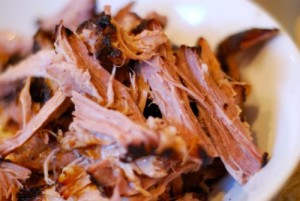 Directions
Begin by preheating your oven to 225F.
Place the raw meat in a roasting pan and cover it liberally with kosher salt and pepper, all over.
Place it on a rack in the middle of the oven and leave it. Seriously – leave it.  Ours generally need at least 8 hours on convection and we have left it in for 12 or more with no problem.
Take out of oven and pull or cut as fits the dish you are preparing.
We often do it overnight so that we can pull it in the morning.  5 minutes of prep before bed and when you get up in the morning, it is probably done.  But you can also do it as an all day roast. We saved some of the crispy, salty fat for use later and then the rest of the pork easily cut/pulled apart.
Niki has additional ideas about basting in the morning and such that you can check out on the Foodwhirl website.