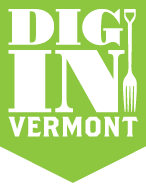 Vermont Life says Dig In Vermont "connects the dots between food and tourism".
As Vermonters who purposely explore our state and especially food and farm events, we are still surprised at how often we still learn of new offerings.
DigIn VT is an interactive website that connects visitors and Vermonters alike to nearly 400 authentic Vermont food experiences around the state. It makes it easy for folks to access customized farm experiences, cooking classes and farmstays that a small farm such as ours offers as well as a wide range of other great places, events and products. DigIn VT is a great example of collaborative spirit of Vermonters and our food and farm enterprises.
We are excited about both how the farm can reach out to new folks via DigInVT.com and how we can find out about other fun stuff in our own state!
Check it out!  Mari even has a blog up there this week!