from Healthy Living Market, South Burlington 
This recipe caught our eye and we now have some reasonable size chunks of pork belly for sale (yes, the bacon before it has been smoked, and a favorite of chefs).
They make a sauce with parsley, but cilantro would also be nice and maybe just using Tomatillo salsa verde with some fresh cilantro stirred in …or just right out of the jar.
Ingredients
2 lb piece of pork belly
1 T parsley, chopped
1 t tarragon
1 t capers, drained, rinsed & chopped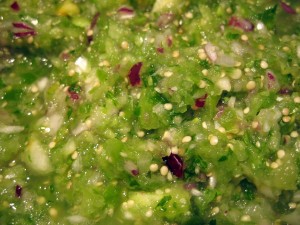 1 shallot, finely diced
zest of 1 lemon
1 T Olive Oil
salt & ground pepper
(or jar of Tomatillo salsa verde)
To cure your pork belly, score the fat side of the belly in a cross hatch diamond pattern.  Season liberally with salt and pepper.  Place belly in a ziplock bag and let sit refrigerated for at least 6 hours or overnight.
After curing, remove belly from fridge and preheat oven to 300F.  Place belly in a cast iron pan and roast 2.5 to 3 hours or until the skin is crackling crunchy and the meat is unctuous and yielding.
To prepare the salsa verde, mix the herbs, capers, shallot, lemon zest and olive oil together in a small bowl with salt and pepper to taste.  Serve Pork belly hot with salsa verde spooned over the top.