Finally, the farm transition has begun in earnest.  Bed prep, compost spreading, compost moving, planting, seeding, potting up and training young animals to respect electric fencing.  All in a week's work.
Spring is short in Vermont, which means a short window to get everything in the ground so it has a long enough growing season. As seeds or transplants, carrots, kale, chard, lettuce, onions, shallots and peas have all gone in this week and the rotation of different flats on the hardening off cart is quick.  Meanwhile, we are patiently (farmers) and impatiently (goats) waiting for the pasture grasses to get a bit taller so we can get everyone out on fields.  Until now, we have only put animals in areas that we want to overwork.  The hens are fertilizing and weed killing a future berry patch and the sows and goats are working on Laura's parent's housesite.  The piglets had their second lesson about electric fencing today.  (The first attempt was piglets 1—Laura 0).  This time a great success.  Several squeals, but they are understanding not to touch!  A key step before they go out on pasture.  It'll only be 8 of them, as we are selling 8 piglets this year.  4 are already off to Calais and Connecticut and the rest will head off to Randolph Center and American Flatbread's Inn at Lareau Farm this weekend.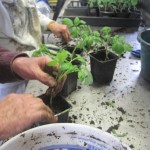 And with help from some volunteers (Thanks Liz & Roy!), we potted up a whole mess of tomatoes: Brandywines, Moscovitch, Yellow Brandywine, Yellow Perfection, Amish Paste and yes our beloved Sungolds.  The bigger pots will encourage them to grow bigger before they move into the hoop house.  And don't worry, if you are a San Marzano lover, they will get potted up later this week!  It was a great help and good fun to have some extra hands moving things along.  While fitting the farm and plants schedules with possible volunteer interest isn't always easy, we love when it works.  If anyone else is interested in getting your hands dirty from time to time, let us know.  There are often some crunch times when extra hands are really helpful and fun too!