We had heard the description of this recipe for a several years from one of our Farm Share members and it always sounds so good. Last year, Molly typed it up during spring greens season, but it is also great for this fall cozy season!  Thanks to Molly for the recipe and photos!
This is a recipe I've adapted from a traditional Indian curry using lamb or goat. Generally, I prefer to thaw out a 3-4 pound leg of goat, trim it of fat and sinew and cube it into small chunks. This is a great recipe for spring time when leafy greens are in abundance! It can be made with spinach, mustard greens, kale, or a combination of all three.
Most recipes for saag gosht call for heavy cream instead of yogurt, but I like the taste of yogurt better. Adapt to your preferences.
Ingredients
2 pounds mustard greens, spinach and/or kale, trimmed of spines
Water: to cover bottom of pan
2-3 pounds cubed goat meat
Splash of olive oil or lard
2-3 chopped onions
5-6 large carrots, finely chopped
Finely chopped hot pepper—whatever your pepper of choice. I used scotch bonnets when I can get them, and jalapenos when I can't. If you don't like much spice, a bell pepper will do nicely as well.
1 ginger root, peeled—size according to taste. I prefer a good, firm root, medium to large in size
1 bunch cilantro
1 bulb garlic
1 quart of plain yogurt. I use Greek yogurt myself, but any variety of plain yogurt will do.
Coriander powder: 1 Tablespoon
Cumin Powder: 1 Tablespoon
Clove powder: ¼ teaspoon
Cinnamon powder: ½ teaspoon
Cardamom powder: 1 teaspoon
Fenugreek seed powder: ½ teaspoon (optional)
Water: approximately 1½ Cup
Butter: ¼ cup
Method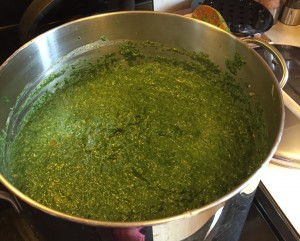 Pre- cook spinach/mustard greens/kale
In a large saucepan with a lid, boil a small amount of water. Turn the water down to a simmer, and gradually wilt the greens in batches until just tender. Drain them in a colander, and puree them in batches until smooth. If you haven't got a blender, you can also chop them finely with a knife. Set aside.
In a blender, puree together the peeled ginger root, garlic cloves and cilantro. Set aside.
In a 4 quart stockpot, sauté chopped onions in olive oil until tender. Add the chopped hot peppers and sauté for several minutes. Once onions and peppers are looking tender and translucent, add the garlic/ginger/cilantro paste, and sauté for 2 minutes, stirring regularly.
Add the dry spices, and stir for about a minute, being careful not to let the mixture burn.
Add the yogurt, and stir thoroughly. It's important not to have the pan too hot at this point, or the yogurt may separate. Stir in the yogurt slowly and raise the temperature very gradually, stirring regularly until the mixture comes to a simmer.
Once the yogurt mixture is at a gentle simmer, add the goat and the carrots. Add enough water to just cover them, but not too much. At the end of cooking, we want to have most of the liquid cooked off, so if you add too much water, you will end up with either a long cooking time or a thin curry (neither of which is terribly tragic.)
Make sure that you watch this carefully until it starts to bubble, then turn the heat down so that it maintains a gentle simmer. Allow it to simmer slowly for one hour, stirring occasionally.
At the end of the hour, add the pureed greens, and stir thoroughly. Continue to maintain a gentle simmer, and cook down until most of the moisture has been reduced—1-2 hours.
Add the ¼ cup of butter and remove from heat. Stir until butter has melted.
Serve hot over rice. Enjoy!