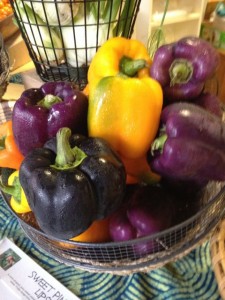 Finally some rain…for some happy plants (and farmers too!)  Lots of good summer eats for a veggie focused meal or a nice pair with our pasture raised meats!  And the peppers are beautiful and diverse!   A variety of shapes, sizes and colors of sweet peppers from little lunchbox delights to Purples and a new one for us a longer oranos orange pepper and the poblanos are lovely too!
This week at our Farmstand you can find:
• Raw Goat's Milk
• Eggs
Fresh/Stored Veggies, Herbs & Fruits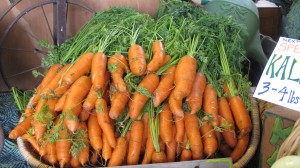 • Arugula
• Basil
• Broccoli
• Carrots
• Cilantro
• Collards (Field Stone Farm)
• Cucumbers* (Field Stone Farm)
• Garlic
• Kale
• Herbs, Pick-Your-Own
• Lettuce Mix
• Napa Cabbage
• Parsley
• Peppers: Sweet, Poblanos & Hot
• Scallions*
• Tomatoes! Cherries & slicers from us & Field Stone Farm
• Zucchini & Summer Squash

Meats      
• Beer Brats
• Bones, Pork & Goat
• Breakfast Sausage, Links
• Chicken, Roasting
• Chorizo Sausage, Links
• Cutlets, Pork
• Fat, Pork Leaf
• Fat, Pork Back
• Goat Chops
• Ham Roasts & Steaks
• Italian Sausage, bulk
• Pork Jowl
• Leg of Goat Roasts
• Offals – Trotters, hearts, liver, kidneys, necks, etc.
• Pork Chops
• Pork Roasts
• Ribs, Goat
• Ribs, Pork
• Turkey Drumettes
From the Pantry & Prepared Foods
• Applesauce – from our organic, heirloom varieties
• Pickled Beets 
• Beet puree
• Bread & Butter Pickles, regular & Mus-Tang
• Carrot Sticks, pickled with garlic
• Mexican Pickled Carrots, Taqueria Style
• Curried Green Tomato Pickles
• Dilly Beans
• Hot Sauces -frozen
• Jalapeños, pickled
• Lard (Leaf)
• Lemon Pickles
• Monarch Relish
• Pepperoncini
• Pesto, Arugula & Mizuna
• Roasted Red Pepper Sauce/spread
• Heirloom Tomato Salsa
• Tomato Sauce: Roasted Sweet Pepper Marinara, frz
• Dried Hot Peppers
• Dried Tomatoes
From our Farm Friends    
• Blueberries, Frozen from Spotted Dog Farm
• Honey from Brookfield Bees
• Maple Syrup from Brookfield Bees
• BEANS! – King of the Early from Morningstar Meadows Farm
• Cider Syrup from Brookfield Bees
This Week's Member Specials
All of the above is available for members and retail shoppers, but we also offer some specials for our members.  To learn more about our flexible, free Choice Farm Share memberships, see the details on our website.
• Large Scallions
• Cucumbers