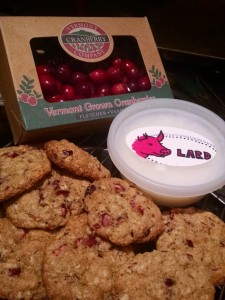 Cookies are well-loved in our household…one of the favorite sweets and best served with the other favorite, Strafford Ice Cream.   This is a favorite family recipe, updated for sustainable local eating!
Bye, bye Crisco and hello pasture-raised lard from our pigs!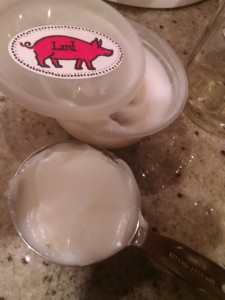 That paired with great ingredients like one of the many great Vermont Flours, this batch used Gleason Grain's organic Snake Mtn. bread flour as we were out of our most local Rogers Farmstead wheat flour,  regional oats, Vermont cranberries, some maple sugar and our eggs and lard.   Need to work on the recipe to make it with honey & maple syrup…oh yeah!
A fun holiday and anytime you can get your hands on cranberries cookie.  And a great example of how local lard can be a part of your baking as well as cooking.  And in this dark season when hens aren't laying as productively, it only needs 1 egg, bonus!
And it inspired a WCAX story on lard!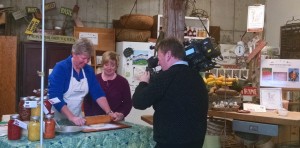 Mother's (as in Mari's grandmother Gladys Murphy O'hare Burke) Oatmeal Cranberry cookies adapted
1 cup sifted flour
1/2 teaspoon salt
1/2 teaspoon baking powder
1/2 teaspoon Baking soda
1/2 cup brown sugar (not packed)
shy 3/4 cup other sugar
1/2 cup lard
1 egg
1 Tablespoon water
1 teaspoon vanilla
1 1/2 cups rolled oats
1 cup cranberries chopped (small food processor works great!)
Preheat oven to 325.
Sift flour, salt, baking powder & baking soda together.  Add sugars, lard, egg, water and vanilla and mix well. I use a mixer for this piece.  Add oats and cranberries and mix a bit more, just enough to get all incorporated. It will be a dry dough.
Shape into balls the size of a walnut and place on an ungreased cookie sheet, leaving room for them to flatten.  Sprinkle with a bit of sugar and bake 13-15 min.  Let cool a minute or so on cookie sheet before moving to cooling rack.
Makes about 2-2.5 doz