Sometimes it takes some occasion – be it a holiday or world events or losses to make us stop in our tracks and to pull ourselves out of the daily grind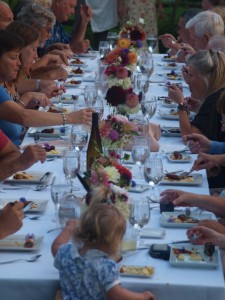 and routines. Stimulus helps us lift our heads up and notice life, our surroundings, and the world a bit differently.   In these moments we remember what it is truly important. We restore our intentions for how we walk through this world.
Thanksgiving is a holiday where we celebrate abundance and feast together. Talk about positive feedback loops! Traditional dishes showcase the harvest and bring us the joy and goodness associated with SLOW Food. Both the slowness and the ambitious spread of whole foods, and often a roasted turkey, are rare treats in our fast world. Our farm treasures the opportunity to provide special traditional foods for the holidays, like turkey, Brussels sprouts and sweet potatoes.
We enjoy even more being open all year round for shoppers who are choosing the "good, clean, fair" food. Together with many great organizations like Slow Food VT and Humaneitarian.org we hope we can grow the flock and make some of what is great about Thanksgiving be present daily, making it easier to find gratitude into the future.
And in the end gratitude, togetherness and good clean fair living is what is needed to overcome fear, hatred and war.