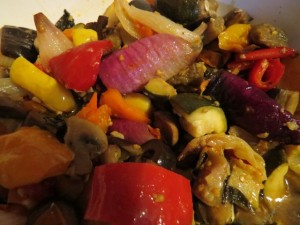 Thanks to Donna Farley for this one, a great option for enjoying the last of the summer veggies!
This recipe is based on a recipe in Delia Smith's Summer Collection (translated into American!)
Ingredients – rough guide! I use more of whatever is abundant or what I am craving, and I don't always use fennel if it's not available.
1 small eggplant
2 medium zucchini/summer squash
1 lb cherry tomatoes
1 small red pepper, de-seeded and cut into 1 inch squares
1 small bulb fennel, chopped
1 large onion, sliced and cut into 1 inch squares
2 fat cloves garlic, crushed
2 tablespoons fresh basil leaves, torn so that they stay quite visible
3 tablespoons extra virgin olive oil
2 oz pitted black olives, chopped
1 heaped tablespoon capers, drained
salt and freshly milled black pepper(I also sometimes add 1/4lb to 1/2lb quartered mushrooms with the veggies)
Equipment:  You will also need a large, shallow roasting tin.
Method:
First prepare the roasted vegetables: prepare the eggplant and zucchini/squash ahead of time by cutting them into 1 inch dice, leaving the skins on. Then toss the dice in ¾ tablespoon of salt and pack them into a colander with a plate on top and a heavy weight on top of the plate. Leave them on one side for an hour so that some of the bitter juices drain out. After that, squeeze out any juices left, and dry the dice thoroughly in a clean cloth.Method
Preheat the oven to 475°F (450 convection).
Now arrange the eggplant, zucchini/squash, tomatoes, pepper, fennel and onion in the roasting tin, sprinkle with the crushed garlic, basil and olive oil, toss everything around in the oil to get a good coating and season with salt and pepper.
Place the tin on the highest shelf of the oven for 30-40 minutes (sometimes it takes longer, especially if I double or triple the recipe, so I leave it until I see toasted edges) or until the vegetables are toasted brown at the edges. When the vegetables are done, remove them from the oven and stir in the chopped olives and the capers then remove them to a plate to cool.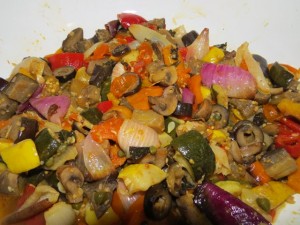 If you go to http://www.deliaonline.com/recipes you can see recipes that use these vegetables. I have made the Roasted Mediterranean Vegetable Lasagna, and the Roasted Vegetable Couscous Salad with Harissa-style Dressing which are both crowd pleasers.