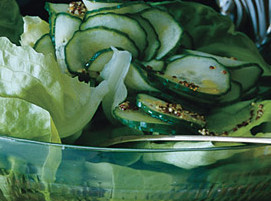 Recipe from Gourmet Magazine
2 cucumbers (1.5 to 1.75 lbs)
2 tsp salt
1 tbsp sugar
¼ cup distilled white vinegar or your favorite…like Artesano's Honey Wine
2 tsp grainy mustard
Lettuce
2 tbsp extra virgin olive oil
Slice the cucumbers into thin rounds (using a slicer will get them paper-thin!) and toss with the salt in a
colander. Let drain for about 15-20 minutes. Squeeze excess liquid from the cucumbers.
Whisk together sugar, vinegar, and mustard in a large bowl, then stir in cucumbers. Marinate, chilled, at least 2 hours.
Drain cucumbers, reserving marinade, and mound on lettuce. Whisk oil into reserved marinade and drizzle over salad.