Good. Clean. Fair.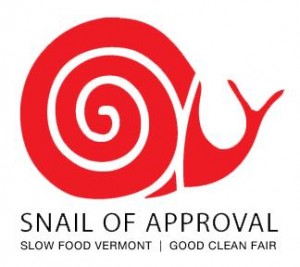 Slow Food Vermont  boils what is important down to these simple words. And when they teamed up with Humaneitarian.org to host a "Heritage Breed Supper" at Half Pint Farm at the Intervale, that sounded like an event we wanted to be a part of.  The idea was inspired and vignettes of the evening will inspire us moving forward.  Guest Chef Luke Stone of The Hindquater  had a swath of herbs dipped in warm oil with which he remoistened the meat on the grill. The flavors and textures reflected not only this care, respect and embellishment but also that of those who raised this meat.
Ultimately too it reflected diligence in breeding and tenacity of farmers and homesteaders who have kept the genetics of old-fashioned breeds like our Tamworth pigs and the various hen breeds in our laying flock intact despite increased time, thus feed and labor required. And as opening remarks indicated, the heritage breeds not only have traits that enable pastured animals to thrive producing nutritional and taste excellence, heritage breeds are likely to be very helpful amidst the changing climatescape of the 21st century.
Mara and Spencer grow more than 70 types of tomatoes at Half Pint Farm and the tour and evening  reminded us of why we choose to grow heirloom varieties which, like the heritage breed meats, are more marginal for profitability but offer slower, deeper and tastier rewards.
Friday's trip carrying farm fresh samples to Gifford Medical Center was an opportunity to add perspective and celebrate those rewards.  Executive Chef Ed Striebe, Chef Steve Morgan and their team welcomed us into their efforts to support staff and patients with food that supports healing and health. Some of our food is showing up in the cafeteria and we offer farm food delivered to Gifford Staff as well!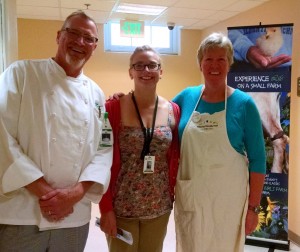 This week we also shared our Farm's nutrition, space and learning atmosphere with a range of folks from Northfield Rotary Club to Ludlow's Quest Youth program as well as Vermont Sustainable Jobs Fund that keeps the Farm-to-Plate initiative moving, all of whom integrated paid farm experiences and farm fresh food with their regular business as a piece of contributing to local farms.
All of these collaborations have us glowing in the warmth of shared efforts caring for people and our planet. But when we heard that Fat Toad Farm
won the "Best Product Line" SOFI award we lit up completely with pride.  Our pigs have been cheering them on and glad for some travel for those caramel makers as it has meant a bit of Fat Toad's extra milk has been feeding them!
It is truly inspiring to work in partnership with so many caring partners and collaborators!  And some days, especially after long, soggy days of work, that inspiration is needed and so welcome.