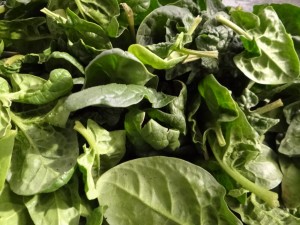 The spinach sure believes it is spring.  With the longer days and some slightly warmer temps it is going gangbusters, and oh so sweet…now if we can only convince it not to bolt.  But loads of spinach for the next few weeks – enjoy it in all its beautiful ways…perhaps sauteed and put in an omelet?
This week at our Farmstand you can find:
Fresh/Stored Veggies
Beets
Carrots, Lots!
Chard, Frozen
Garlic
Green Beans, Frozen
Kale, Frozen
Onions, Red & Yellow
Pesto, Basil & Cilantro
Potatoes, Lots!
Shallots
Spinach, Lots!
Tomatoes, Frozen
Meats
Bacon, Maple smoked, nitrate free
Boneless Specialty Pork Cuts: Grilling Steaks, cutlets, side pork, eye of the round medallions, etc.
Bones, Pork & Goat
Chicken, Roasting
Chicken, Stewing Hens
Fat, Pork Leaf
Fat, Pork Back
Goat Ribs/Goat Rack
Ground Goat
Ham, bone-in roasts
Ham Steaks
Sweet Italian Sausage, bulk
Leg of Goat Roasts
Offals – all sorts!
Pork Chops – Boneless & Bone-in
Pork Roasts – Shoulder, semi-boneless rib roasts, boston butt, and more
Ribs, Pork
Shanks, Goat
Smoked Polish Sausage
Tenderloin, Pork 
Turkey Breast
Turkey Thighs
Turkey Drumsticks
From the Pantry
Heirloom Red Bloody Mary Mix
Green Mountain Mary Mix (Heirloom Green Tomato Bloody Mary Mix!)
Bread & Butter Pickles
Dilly Beans
Green Tomato Pickles (Curried, smokey & Relish)
Hot Sauces – canned & frozen
Jardinere
Marinara Sauce, Frozen
Chopped Frozen Onions
Pickled Jalapeños
Pepperoncini
Tomolives
Tomatillos
Tomato Juice
Heirloom Tomato Salsa
Tomato Paste
Tomato Puree
Dried Tomatoes
Dried Hot Peppers
Farmhouse Soups: Carrot Ginger(V), Vegetarian Borscht
From our Friends
BEANS!  – Black Beans & King of the Early from Morningstar Meadows Farm
Field Stone Farm Pizza– Garlic Lovers with Chevre & Toasted Pine Nuts; Delicata Squash with Caramelized Onions, Bacon, Sage Oil; & Sweet Pea Pesto with Mushroom and Bacon
Pumpkin Puree from Two Worlds Farm
Honey from Brookfield Bees
Caramel from Fat Toad Farm including Spicy Dark Chocolate Flavors and some gift boxes
Maple Syrup from Brookfield Bees
Blueberries from Spotted Dog Farm
Organic Shopping Bags from Spotted Dog Farm
*Items in italics and from our farm friends are not included in the Omnivore Share, but are available to Omnivore's at a 10% discount.