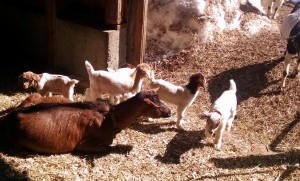 The sun is getting so much stronger and days longer… but darn some of the days and lots of the nights have been severely cold! We've got some wonderfully bouncy and big goat kids but their early hours have required much more of us than usual. Lots of hypothermia bucket baths and blow dries and extra help learning to milk so their digestive systems can act as internal furnaces. And extra protected spaces with heat lamps.
And extra checks on everything. Still, our luck with infrastructure ran out when a door wasn't latched well in the Farmhouse Inn and we wound up with frozen radiant heat tubes and blown out sinks in our farm kitchen.
At a glance, peace seamed to reign in the hoop house. But a closer look revealed that the mouse-eared chickweed was flowering! Who would have thought we'd be weeding in all this chill, but best to resolve before this pesky shoulder season weed goes to seed to cause greater trouble later. And the spinach itself, long overdue finally yielding the special winter-sweetened and thickened lusciousness, began to bolt! We choose varieties least likely to interpret the longer days as a trigger to set seed but let's face it, the spinach, like the rest of us, has been through one hell of a winter. It is a great week to bring out your favorite spinach recipes.
Amidst all this, well meaning shoppers in the farmstand made a friendly comment to Mari about "having THE life." IS the customer always right?
We have a great life and feel lucky to live in this place made special by its geography, community and climate (we can love our snowbelt and still resent this particular winter right?).
At the same time, the story of struggle in small-scale agriculture was made heart-wrenchingly clear in a gathering of Northfield, Berlin and Roxbury farmers discussing House Bill 35 with our legislators and subject matter experts, anchored by Vermont Association of Conservation Districts. All farmers present share concerns about Vermont's water quality but proposed new fees and increased restrictions on farming practices truly threaten many of the already precarious small farms. Our hearts break for the stress that past and present small farmers face, due to substantial subsidies for industrial scale agriculture and their habitual outsourcing of environmental and social costs. None-the-less, we believe there should be no exemptions for individuals or land use types when it comes to protecting water quality. And that increased stringency on nutrient management and transparency about farming practices, even if it means someone will watch over our shoulders, is necessary and welcome.
For an inspiring window on the theme of transparency many of you will enjoy Carrie Abels' editor's note and story, "Our Meat Made Visible", in the new Local Banquet Spring issue.  Such appreciation for the great conversation Local Banquet encourages!
Mercy! Now it is YOU saying "Uncle." This is getting long. Let's get on with it and eat our way to a better world. Conjure up some spinach dish inspiration. And then, whether the March that came in like a lion, stayed in the middle a lot like a lion… who cares what it will go out like? We are spinach strong.