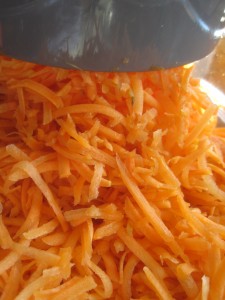 The warmth will come back eventually….I think.  Until then we are keeping the oven filled with warm cozy dishes and some fun salad inspirations.  In fact, we are even shredding the carrots for you this week to make some simple carrot salads and yummy slaws easy!   Perhaps tacos with the overnight pork roast and a carrot slaw on top?
This week at our Farmstand you can find:
Fresh/Stored Veggies
Beets
Brussels Sprouts
Cabbage
Carrots
Shredded Carrots
Chard, Frozen
Garlic
Green Beans, Frozen
Onions, Red & Yellow
Pesto
Potatoes
Shallots
Winter Squash (last week)
Meats
Boneless Specialty Pork Cuts: Grilling Steaks, cutlets, side pork, eye of the round medallions, etc.
Bones, Pork & Goat
Chicken, Roasting
Chicken, Stewing Hens
Fat, Pork Leaf
Fat, Pork Back
Goat Ribs/Goat Rack
Ground Stew Meat
Ham, bone-in roasts
Sweet Italian Sausage, bulk
Leg of Goat Roasts
Offals – all sorts!
Pork Chops – Boneless & Bone-in
Pork Roasts – Shoulder, semi-boneless rib roasts, boneless boston butt, and more
Ribs, Pork
Shanks, Goat
Tenderloin, Pork 
Turkey Breast
Turkey Thighs
Turkey Drumsticks
From the Pantry
Heirloom Red Bloody Mary Mix
Green Mountain Mary Mix (Heirloom Green Tomato Bloody Mary Mix!)
Dilly Beans
Green Tomato Pickles
Hot Sauces – canned & frozen
Jardinere
Marinara Sauce, Frozen
Chopped Frozen Onions
Pickled Jalapeños
Pepperoncini
Tomolives
Tomatillos
Tomato Juice
Heirloom Tomato Salsa
Tomato Paste
Tomato Puree
Dried Tomatoes
Dried Hot Peppers
Farmhouse Soups: Carrot Ginger(V), Carrot Potato Leek, Vegetarian Borscht, Southwestern Squash (V)
From our Friends
Pumpkin Puree from Two Worlds Farm
Pizzas from Field Stone Farm!  — Multiple flavors while they last
Honey from Brookfield Bees
Caramel from Fat Toad Farm including new Maple & Spicy Dark Chocolate Flavors and some gift boxes
Maple Syrup from Brookfield Bees
Blueberries from Spotted Dog Farm
Organic Shopping Bags from Spotted Dog Farm
*Items in italics and from our farm friends are not included in the Omnivore Share, but are available to Omnivore's at a 10% discount.