While our snowfalls haven't been worthy of news, the farm is a winter wonderland. The deep snowpack has a lovely layer of powder on top. Persistent cold temps have made extra hay and straw bedding necessary. (Working digestive tracks are the ruminants' internal furnaces). Who remembers the scene in the Laura Ingalls Wilder book (not sure which one) when Pa goes out to the oxen in the middle of the night to make them run in a circle, fearing they'd succumb to the cold? Anyway we are glad for a plentiful supply of Walt Palmer's quality hay and our draft free barns, making such measures unnecessary.
Speaking of draft free barns… The 17 pregnant does, Babar the buck, and 3 sows (2 inseminated last week and one over the next few days) are enjoying another winter in our original barn,where real estate near the open South facing doors is in high demand.
Up in the new barn, the 88 hens and 3 young pigs are soaking up sun all day when it is clear, via fabric curtains, running the entire length of the barn and comprising the eastern door. The fabric is comparable to the traditional board and baton walls in terms of blocking more than 95% of the draft. Yet it enables incredible copious light penetration.
These curtains enable many climate control options and can also roll all the way up and tuck under the eaves to protect them from the elements when they aren't needed, hopefully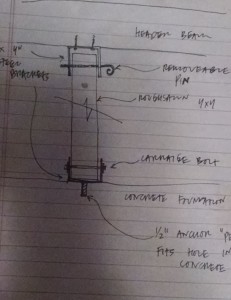 enabling them to last for decades. Fanfare during construction focused on the beautiful timber frame artistry from Knob Hill Joinery and its crane flown assemblage, but blending the modern elements was a noteworthy effort in itself.
Huge thanks go out to Forrest Twombly for being willing to work with our off the beaten path approach, sketching so our friend Chris Eaton (www.kingfisherforge.com) could custom-make parts integral for blending the ancient and modern components.  But these two are friends of the farm fed by its abundance.
Somewhere in area code 519 a guy named Dave Waud really went above and beyond to support our efforts. He coached us via phone, with the earnest tones of a former dairy farmer, turned engineer, who now happens to be a salesman –"Its going to take some Macgyvering". Forrest was up for that as he always is. But it is pretty cool that beyond sending photos and manuals, Dave took time to do his own sketches to make sure we could successfully install these modern components on our traditional structure. Thanks Dave, your SunNorth (http://www.sunnorth.com/curtains/curtain_rollup.html) products make our livestock's home healthy and pleasant. And your personal knowledge, experience and efforts gave us the confidence and know-how to blend old and new to suit our farm's particular goals and interests.