This week we had 2 fun news pieces.
Steph from Fox 44 did a story about possible changes to the Raw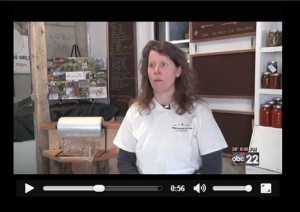 Milk law that Rural Vermont is seeking on behalf of farmers.  The changes sought include some ability to sell small amounts of raw milk cheese, yogurt, butter and ice cream (the piece we are most interested in) as well as lifting restrictions about selling at farmers markets and some other bits.  See the story here (mostly quotes are in context, though not entirely) and if you want to know more about the Raw Milk campaign check out Rural Vermont's site.
And Mari's interviews with Heritage Radio Network about Farm tourism were published — one is sort of silly, but highlights how great it is to have world class music from Scrag Mountain Music and Red Tail Ring at the farm. The other is a great reminder about what a great destination we can be for folks from near and far.
Thanks to Heritage Radio Network for their focus on conversations about our nation's food systems.
Story: New Income Source for Small Farms
"You put sunshine on the Vermont Hills, and you put a few big city dollars into the Vermont Hills- you can sustain the working landscape." [0:30]

— Mari Omland on Agritourism
Story: Down the Line with Mari Omland
On this edition of 'Down the Line', Mari Omland of Green Mountain Girls Farm in Vermont explains how the food system has been broken, the inspiration for her farm name, and the musical sounds that fill the fields. What is Mari's dream career? Find out on this edition of 'Down the Line'!