Forecasts include ten degree lows. Ice covers the pond and makes water in buckets inaccessible to livestock. Fall is starting to feel and look like winter!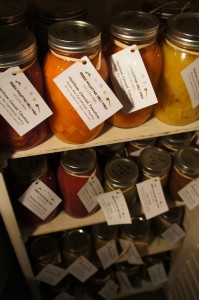 There is an associated shift for all of us who eat from the farm. Storage crops –roots, potatoes and squash, as well as the pantry full of canned goods become more of a central focal point. Careful tending of hoop houses and their covered tunnels inside, enable us still churn out some fresh salad greens but it is side-dish slices of freshness from the few thousand square feet we keep from freezing. Acres of gardens won't yield again until Spring.
Eating locally through the drastic seasonal changes of Vermont require that we bid some favorite foods
so long while our planet rotates and the sun's rays hit earth at a shallow angle. But absence makes the heart grow fonder, right? Barbara Kingsolver said it differently in Animal, Vegetable, Miracle: A Year of Food Life, "Value is not made of money, but a tender balance of expectation and longing." What cozy dishes have you longed for? And what summer treat will you miss most?
In order to make this hill farm work with its undulating land at all different slopes and aspects and for us to develop the balance of nutrients in the soil etc. we grow a great diversity of food. In order to keep the balance on the supply side we ask our customers to eat around… eat around the farm and eat around each animal. Of course we understand if a cultural or physical limitation exists but beyond that we press everyone to eat around and enjoy new discoveries along with old favorites.
Most of the world eats around differently. Many grocery stores look close to identical year round. As a result, Barbara Kingsolver notes "the average food item on a U.S. grocery shelf has traveled farther than most families go on their annual vacation".
We are glad to be the spot on the map that keeps your food fresh, sustainable and close to home.