Some say the secret to a great dish is in the sauce. Those who study nutrient density say it's in the soil. We know the secret is in the farming, in nurturing relationships — with our neighbors and natural systems, between our animals and our customers.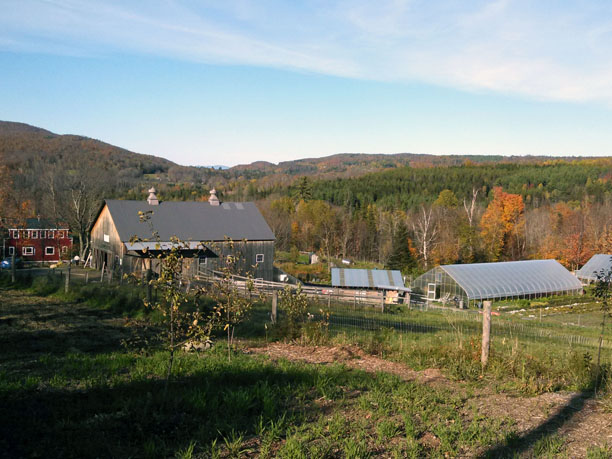 This week the magic was once again in collaborating with Mary and Evan, Artistic Directors of Scrag Mountain Music. Our neighbors and other concert guests poured out of our barn Friday night on their own high, exclaiming that in the final Bartók piece the Aizuri String Quartet members "were practically levitating." As were we! All had been warmed already by the stories and piano playing of Liva's friend Lembit, the concert and tasty farm supper and lattes in on the hoof prior.
We farmers had our adrenaline rush ongoing. The pigs are now eating one-half ton of grain a week, goats busy making the next generation (kidding 5 months from now, start thinking of naming themes!), pressing on with season transition (out with the tomatoes, in with the spinach!). The Escape-Maker Expo enabled us to meet a great crowd in Brooklyn, we hosted a French journalist, Bostonians and Austrailians for farmstays and Heritage Radio took interest with a live interview for The Farm Report. The week climaxed in Brookfield's Old Town Hall with the Floating Bridge Food and Farm's Harvest Market. All enjoyed Dan's cider pressing demonstrations, Zack and Jennifer's lovely old time music, festive flowers, gorgeous produce and wafting deliciousness from Lee's gumbo and Chandra and Ian's gyros.
While the rest of the country is talking about the film Gravity, we are proud to have hosted talented musicians who moved us to gravity-defiant postures via all the athleticism, intellect and care they poured into their performance. What new levels we can rise to together? What cascade of good will come from restoring Vermont's hill farms? And via the non-linear effects of hiring and eating locally? Where will we all land when we've re-nourished our soils and ourselves?