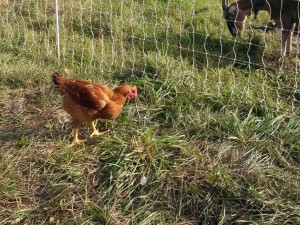 Fresh chicken will be available this week and next. Our ambitious friends Bruce, Beth and their team at Maple Wind Farm processed another 60 of our birds. And Monday it will be all hands on deck processing the remaining 160. Hopefully they will be as tender as the birds have been this summer. What makes them so tender? We get this question frequently and some farmshare members assert this year's chickens have been the most tender yet.
If we compare to industrial farm chicken the differences are stark. Yes, sunshine might well make for a difference in meat. And grass. And bugs. Rotational grazing simply keeps life fresh! Fresh and exciting for the chickens as is exemplified by the above photo from earlier this summer when we caught a chicken in the act of chasing down, subduing and eating a snake! And year to year there are different genetics and so on but could it be that the wet months that ruined our onions just made it so much more lovely for snails and other chicken treats that our 2013 is THE year for tender chicken? Let us know what you think!
Tenderness is also saved in the way we handle the meat – chickens pass out of the world as calmly as possible and the meat is chilled or frozen quickly after careful and gentle handling. How chicken is stored affects its tenderness majorly – if you refreeze chicken after it has been thawed or wait more than a day after thawing meat to cook it both tenderness and food safety go downhill quickly.
To keep the chicken tender when you cook it make sure there's plenty of fat involved (especially for boneless breasts!) and, even if you don't eat it, leave the skin on for cooking. A short period of high heat followed by a longer, slower, lower cooking process is always a good bet and you can even brine the chicken to add to the tenderness.
Speaking of culinary expertise 😉 … Guy leaves at the end of this week to continue "nose to tail" adventuring, this time at Cochon in New Orleans, his final requirement for finishing his NECI degree. Andrew will miss him each week as the harvest comes in. We'll all miss him and how he spoiled us when his turn comes up for farmer lunch. The walk-in won't be as organized! And most of all we will be missing a certain thoughtfulness and tenderness on our team. Guy will be back in Vermont this winter. Be sure to let him know your favorites from a summer of sampling many of his farm-fresh treats! And help us lure him back to the farm with other requests… Maybe a kidding and Mardi Gras party in March?