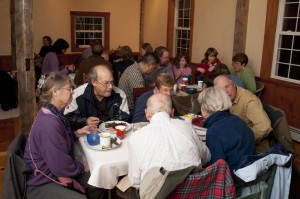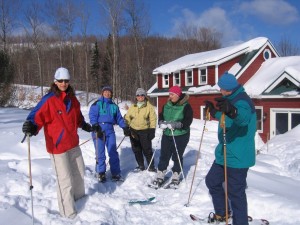 Snowshoeing, like farming, eating farm-fresh food and gathering in community, are good for the heart!
Fun conversations at the Farmers Market Sunday have hatched a plan… Some folks plan to bring snowshoes this Thursday and a bunch of us will be doing a bit of a romp out back during farmstand hours. Skis, of course, are also welcome!  And we have lots of extra pairs (3 sized for young kids and lots for adults).
Just don't tell Mari's Dad.  You see, Laura is relatively unassuming. But while visiting the Omlands early in our relationship she boldly proclaimed that she wasn't going to ski Pico with the rest of the clan! Off she went to Deer Leap with Erling singing loudly after her in the peppy cadence of a popular WWII 10th Mountain song…


♫♪♪

       "You can take your snow shoes and burn them sister!  I'll be skiing up on Alta Vista."     ♪♫♫

We love you Dad but skis and snowshoes both have a special place in our hearts and on our farm!