– adapted by one of our favorite farm cooks, Donna Farley, from Fat Toad Farm's Recipe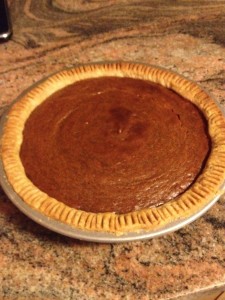 Ingredients
15 oz pumpkin, squash or sweet potato puree (see below)
8 oz Fat Toad Farm Caramel – I use Vermont Maple flavour, FTF recommends Salted Bourbon or Original
2 eggs
3 tablespoons dark brown sugar
2 tablespoons molasses
2 tablespoons dark rum/bourbon
2 teaspoons vanilla extract
1 teaspoon ground cinnamon
1/2 teaspoon ground ginger
1/4 teaspoon cloves
1/2 teaspoon salt
1 cup freshly whipped cream to garnish
1 9" pie crust (see below)
Directions
Preheat oven to 425ºF.  Mix up a batch of your favorite pie crust dough, enough to cover a 9" pie pan.
In a large mixing bowl, combine pumpkin, Fat Toad Farm Caramel and eggs. Add remaining ingredients and mix thoroughly.  Pour pumpkin mixture into pie crust. Spread evenly and gently tap to remove any air bubbles.  Bake for 15 minutes. Reduce oven temperature to 350ºF, cover the edges of the pie crust if they are already golden. Bake 45 to 50 minutes or until knife inserted near center is clean when removed.  Allow pie to cool before serving with fresh whipped cream.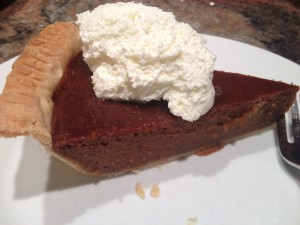 Pumpkin/Squash Preparation
Slice in half , scoop out seeds & place cut side down on a baking sheet
Cover tightly with foil & bake at 350F for 45-90 minutes depending on size of squash, until soft.
Scoop out cooked squash and, when cool, puree with immersion blender or food processor.
Let it sit for about 30 minutes and pour off any excess liquid.
Sweet Potato Preparation
Bake whole potato(es) on a baking sheet, at 350F for about 1 hour until soft.
When cool, scoop out and puree with immersion blender or food processor.
Pie Crust Preparation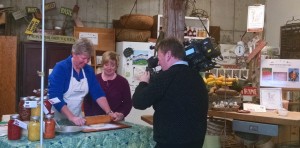 See Donna's conversation with WCAX's Judy Simpson for some tips
8oz All Purpose Flour
Pinch of salt
2 oz Lard (Green Mountain Girls Farm!)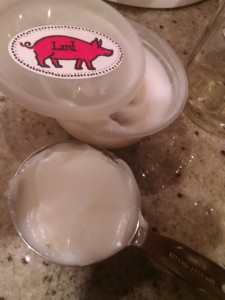 2 oz Butter
1/4 C cold water
Remove butter from fridge and leave to stand for about 30 minutes until it is not so hard.
Sieve flour into a large bowl, with salt.
Add butter to flour and chop into pea-sized pieces with a knife.
Add lard (straight from the fridge) and cut into similar sized pieces.
Use cool fingertips to quickly & gently rub the fat into the flour until you have a breadcrumb type texture.
With the knife, stir in all of the water.
Use your hands to quickly bring the mixture all together as a dough, using it to wipe up any excess around the bowl.
Wrap the dough in cling film, and put it into the fridge to rest for 30 minutes.
Roll it out on a floured surface and use to line a 9" pie dish.
There will be enough dough left to make a smaller pie.