The basil is gorgeous and prolific and this may be my new favorite dressing.  There are definitely variations possible depending on your mood and ingredients on hand!
We taste tested a few at farmer lunch and settled on a hybrid, which will be part of our Summer Farm Dinner!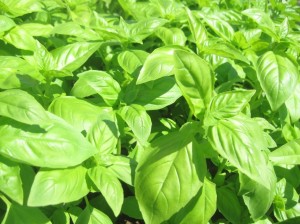 Ingredients
1 cup packed fresh basil
1.5 T onion, shallot or scallion
2 Tablespoons Sherry Vinegar, Balsamic Vinegar, lemon Juice or a combo. (We like the  lemon juice /Sherry vinegar combo)
3/4 teaspoon salt
1/4 teaspoon pepper
3 Tablespoons Yogurt
4-5 Tablespoons Olive Oil
Process
Easiest way — put all in a food processor or bowl with immersion blender and process.
Possible tip for keeping it longer.  Blanch the basil for 1 minute, cool and squeeze out some water, then process with rest of ingredients until smooth.
Taste, adjust to your liking (more vinegar, more salt, more yogurt) and enjoy.
Blanching should help the dressing stay a nice green for a few days in the fridge!
Our recipe is based on one from epicurious with some other influences.