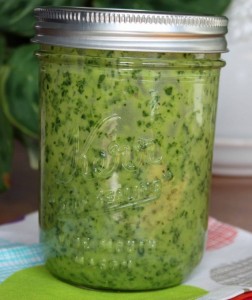 From Moosewood Daily Specials (more or less)
When summer brings warm temps, we crave salad based meals and we think of our Cilantro Lime build your own mexican inspired salad. This is one of our favorites and it ends up a bit different every time depending on what is in season and in our pantry. And other dressings would be great with it too!
Below are some general suggestions, but so many things can be chopped and offer up to top your taco/burrito or salad approach.
Cilantro-Lime Dressing
1 cup chopped cilantro
1/2 cup lime juice
1/2 cup olive oil or other vegetable oil
1 small garlic clove
salt to taste
Whirl all of the dressing ingredients in a blender until smooth.
Salad building options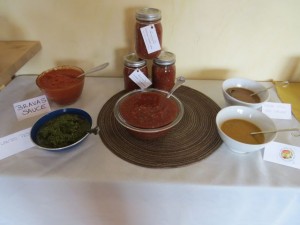 Our base:  Lettuce, Kale or Napa Cabbage, chopped & dressed with the Cilantro-Lime Dressing (or some other green)
Protein hit:  Chicken, chorizo, pulled pork and/or black beans anything else really simply cooked and then marinated in the dressing; or chicken or pork slow cooked in tomatillos
Marinate meats and/or beans in dressing for an hour ideally, for 15 min practically.
Additions:
Various veggies for crunch, spice and additions, depending on the season

radishes, shredded carrots, cilantro, other greens
scallions or onions, tomatoes, peppers and corn
Mexican Pickled Carrots

Cheese, grated
Sauces:
Salsas, fresh or canned
Hot sauces – the Green Chili Hot sauce is great on the meats
Pepperoncini
Pickled jalapenos (really great mixed into some sour cream)
Chopped cilantro
Assemble & enjoy!
Moosewood suggests, "This salad can be simple or piled high with colorful ingredients.  Present it one of three ways: Make one large decorative platter, create individual composed salads, or serve it buffet style with each ingredient in its own bowl (and let the diners do the assembling)."
We love the last option — a great one with guests!