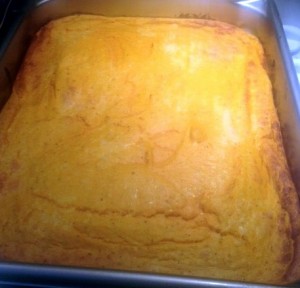 Another recipe tested on farmers for lunch, and it got a thumbs up all around.  We found the carrot souffle particularly nice paired with some spicy items — we had a spicy dressing on a salad, but with a spicy meat dish it would be great too.
Ingredients
3lb Carrots
3 Tablespoons Lard/Butter
1 Onion, chopped
1 Garlic clove, crushed
5 eggs
3/4 Cup Goat's Cheese
4 1/2 Tablespoons Flour
1 1/2 teaspoons Baking Powder
3/4 teaspoon salt
3/4 teaspoon pepper
1/2 C Parmesan cheese, grated (2 Tablespoons reserved to sprinkle on top)
Slice the carrots thickly (can be done with a food processor slicer) and add to boiling salted water. Boil for 15-20 minutes until tender.
Drain the carrots and blend in a food processor until they become a smooth purée.  (The carrot cooking water can be reserved for soup or cook it down a bit and enjoy as a warm carrotty tea)
Fry the onion and garlic in the lard/butter until tender, then add to the carrot purée in the food processor. Also, add the eggs and goat cheese and blend until smooth.
Pour the mixture into a large bowl and stir in the flour, baking powder, salt, pepper and the Parmesan.
Transfer the mixture to a greased 9 x 13 casserole dish. Sprinkle over the remaining Parmesan.
Bake at 350 for 40-45 minutes until golden and puffy.